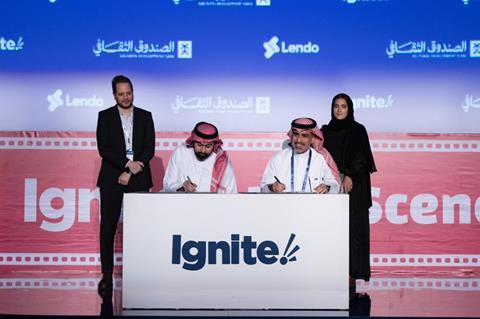 Saudi Arabia's Cultural Development Fund has officially launched its $234m (SAR 879m) Film Sector Financing Programme, which is open to local and international companies working in the country's film industry.
The Programme aims to grow the Saudi film industry by providing the private sector with financing packages.
30% of the Programme's funding is being earmarked to help establish companies and facilities that support the film sector. The remaining 70% of the fund goes to film content development, production and distribution.
There are two funding vehicles available – lending and investment. During a launch event in Riyadh, the CDF launched the lending vehicle by signing two agreements with financial partners, Lendo and Sukuk Capital, to provide financing packages to companies working in the Saudi film sector. The lending package has $154m (SAR 579m) to lend to SMEs and other film sector projects.
The investment vehicle will be launched later this year, and will invest in SMEs, infrastructure projects, and film projects in the sector.
Screen first revealed details about the Programme in December last year. The Saudi government is keen to encourage local film production, recognising that film is one of the fastest-growing cultural sectors in the country. Film is a key focus of Saudi Arabia's plan to develop its entertainment industry as part of the Vision 2030 initiative to diversify its economy and relax conservative cultural rules.
The Film Financing Programme targets small-medium businesses, and local and international companies working in the Saudi film sector. These could be production and / or distribution companies, production services providers, equipment rental firms, facilities and film supporting businesses.
"We are excited to announce that we have partnered with strategic financial institutions across the country to provide companies working in the film sector with the financial solutions to shore up the film sector, establish financial sustainability for film projects, and enable healthy market dynamics," said Mohammed Bindayel, CEO of the CDF. "We invite all financial and investment institutions to join this mission to build and empower this emerging sector."
The Cultural Development Fund was founded in 2021 and supports a variety of cultural activities, facilitates investment, and seeks to improve the country's culture sector.
The Programme's launch announcement took place at an Ignite the Scene event (pictured above), organised in Riyadh by the Saudi Ministry of Communications and Information Technology.