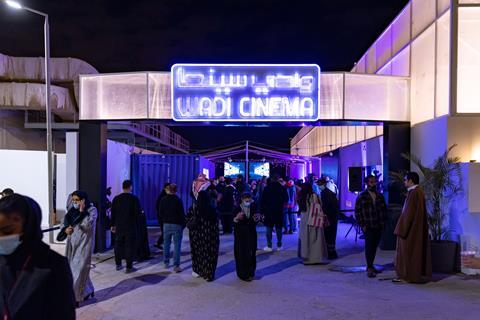 Burgeoning Saudi exhibitor Muvi Cinemas and content production and distribution company Telfaz11 have launched joint pop-up venture Wadi Cinema aimed at fostering arthouse cinema-going in the country.
Unfolding within Saudi Arabia's first-ever art biennale, running in the historic city of Diriyah on the outskirts of Riyadh from December 16 to March 11, the initiative consists of a temporary cinema and a programme of recent arthouse titles.
It opens on Thursday (December 23) with a screening of Oscar-nominated The Man Who Sold His Skin by Tunisian director Kaouther Ben Hania, who will participate in a virtual Q&A after the screening.
Further screenings this week include Saudi director Shahad Ameen's drama Scales, which world premiered in Venice in 2019, followed by a Q&A with lead actress Basima Hajjar and actor Yaqoub Alfarhan, and four short films by local cinema pioneers Maha Al-Saati and Mujtaba Saeed.
International films
International titles due to screen as part of the programme over the coming months include Egyptian director Omar El Zohairy's Cannes Critics' Week winner Feathers, Italian documentarian Gianfranco Rosi's Golden Bear winner Fire At Sea, Italian filmmaker Alice Rohrwacher's Happy As Lazzaro, Moroccan director Alaa Eddine Aljem's The Unknown Saint, Iranian visual artists Shirin Neshat and Shoja Azari's Looking For Oum Kauthum, Russian director Alexander Sokurov's Russian Ark and late Iranian filmmaker Abbas Kiarostami's Close-up.
Most of these films will make their theatrical premiere in Saudi Arabia through the Wadi Cinema initiative.
Many of the titles were already accessible digitally in Saudi Arabia but the aim of the initiative is to grow the theatrical audience for arthouse cinema as the country rebuilds its box office following its 35-year cinema ban which lifted at the end of 2017.
"The best way to experience cinema is in a theatre, where audiences can break away from their everyday lives to watch a filmmaker's vision come to life," said Muvi CEO Sultan AlHokair.
Wadi Cinema further strengthens ties between Telfaz11 and Muvi which took a stake in the pioneering content company earlier this year, and also led a recent fundraising drive to create a multi-million-dollar investment line to finance a raft of upcoming film and TV productions.
"Wadi Cinema will focus on enhancing Saudi Arabia's theatrical film culture by providing an alternative experience to be enjoyed by cinephiles who have sharply increased in-theatre attendance over the last few years," said Telfaz CEO Alaa Fadan.
The initiative also aims to support the country's growing filmmaking scene with twice-weekly screenings and talks around home-grown short and feature productions.
"We are keen to promote and encourage dialogue between the local film community and give independent Saudi filmmakers a voice and opportunity to showcase their work and cement it in the booming local cinema industry," said Fadan.
The initiative runs for the duration of the Diriyah Biennale.