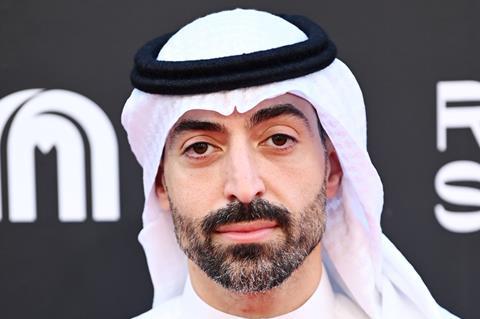 Saudi Arabia's Red Sea International Film Festival (RSIFF) has appointed producer Mohammed Al Turki as CEO in a role making him directly involved in the day-to-day running and development of the event.
Saudi-born Al Turki worked as a producer in Hollywood for 12 years, taking executive producer credits on titles such as Arbitrage, 99 Homes, What Maisie Knew and Crisis.
He returned home following the lifting of Saudi Arabia's 35-year cinema ban at the end of 2017, as part of the country's Vision 2030 strategy to move the country's economy away from a reliance on gas and oil.
Since then, he has been a driving force behind efforts to build a film and TV industry in the country.
He has been involved in the RSIFF since 2020 when he was appointed chairman of the festival committee, a largely consultative role tapping into his Hollywood experience and network.
In his new position as CEO, he will spearhead the growth of the festival and support its central mandates of being a springboard for Saudi, Arab and African talent as well as a key date festival on the international circuit.
The second edition of the festival is due to take place on December 1-10 in the Red Sea port of Jeddah, after an inaugural edition last December that welcomed more than 30,000 filmgoers and 3,155 industry professionals.
RSIFF industry initiatives include the Red Sea Fund, which has supported 97 projects by emerging Middle East and North African filmmakers to date; the Red Sea Lodge talent development programme and the Red Sea Souk, a market and industry meeting taking place during the festival.
Al Turki's executive leadership team will include Shivani Pandya Malthora, managing director; Kaleem Aftab, director of international programming; Antoine Khalife, director of Arab programmes and film classics; Samaher Mously, director of marketing; Emad Eskander, head of the fund; and Zain Zedan, Red Sea Souk manager.
"This is an exciting, transformative time where creativity plays a crucial role in the country's cultural renaissance, with a thriving film and art scene and an extraordinary amount of young talent breaking new boundaries and producing content worthy of attention," Al Turki said.
"We want to be at the forefront of navigating the changing cultural landscape, contributing to the global entertainment industry, and serving as a beacon for a new generation of creatives. I look forward to welcoming returning and new guests to Jeddah for our second edition this December."