Festival reveals the award winners from its 34th edition.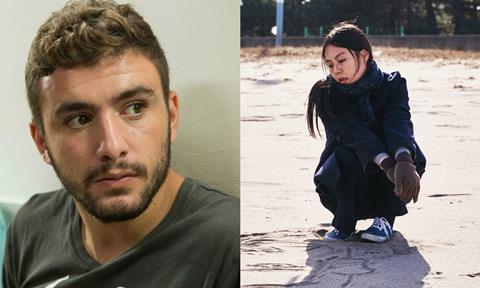 Scaffolding has won the best Israeli feature film prize at the 34th edition of the Jerusalem Film Festival.
The debut feature from director Matan Yair – produced by rising Israeli production outfit Green Productions – takes home a prize worth $28,000 (100,000 ILS).
Scaffolding also scooped the best actor prize for debutant Asher Lax and an honorary mention in the best cinematography category for DoP Bartosz Bieniek.
A jury consisting of Elle producer Saïd Ben Saïd, artist Yael Bartana, cinematographer Agnès Godard and Cíntia Gíl, director of film festival Doclisboa, said of the film: "For a film that combines the reality of a group of teenagers and the will of questioning cinema and the role of filmmaking. For its capacity of capturing the tenderness sometimes behind these kids' violence, their capacity for love, their surprising imagination, in a society that places them in a marginal role forever."
The festival's international competition, running for a second year in 2017, saw the top prize go to Hong Sang-soo's On The Beach At Night Alone, which premiered at Berlin Film Festival earlier this year.
The film receives a prize worth $20,000, put up by the The Wilf Family Foundation.
A jury consisting of Israeli filmmaker Nadav Lapid, actress Evgenia Dodina and journalist Deborah Young commended the film in a statement: "Using the simplest of cinematic tools, Hong Sang-soo creates a mysterious magic, rooted in the heart of daily life. Love, hatred, affection, rage, sexuality, loneliness and deep pain are reflected in the face and body of a young woman, the main character, one of the deepest descriptions of a human being we've seen in cinema in recent years."
The international jury also awarded honourable mentions to Mohammad Rasoulof's A Man Of Integrity and Valeska Grisebach's Western.
The Van Leer award for best Israeli documentary film went to Anat Yuta Zuria and Shira Clara Winther's Conventional Sins. The film follows a man who returns to the diary of his 15-year-old self, recounting the abuse he suffered at the hands of a network of Orthodox Jewish paedophiles.
Elsewhere, Savi Gabizon's Israeli feature Longing won the festival's Audience Favourite Award and also took best screenplay.
Full list of winners:
International Competition
The Wilf Family Foundation Award, in the sum of 20,000 USD: On The Beach At Night Alone by Hong Sang-soo
Honorary Mentions: Western by Valeska Grisebach; A Man Of Integrity by Mohammad Rasoulof
International First Features Competition
The FIPRESCI Award for Best International First Feature: Tehran Taboo by Ali Soozandeh
In the Spirit of Freedom Competition in Memory of Wim van Leer
The Cummings Award for Best Feature Film: The Other Side Of Hope by Aki Kaurismäki
The Ostrovsky Family Fund Award for Best Documentary: City Of Ghosts by Matthew Heineman
Honorary Mention: The Venerable W. by Barbet Schroeder
The Haggiag Competition for Full-Length Israeli Feature Films
The Robert Nissim Haggiag Award for Best Feature Film, in the sum of 100,000 ILS: Scaffolding directed by Matan Yair and produced by Gal Greenspan, Roi Kurland, Stanisław Dziedzic, Moshe Edery, Leon Edery
The Anat Pirchi Award for Best First Film: Doubtful by Eliran Elya
The Anat Pirchi Award for Best Script: Longing by Savi Gabizon
The Haggiag Award for Best Actor: Asher Lax for his performance in Scaffolding; Honorary Mention: Adar Hazazi for his performance in Doubtful
The Haggiag Award for Best Actress: Samira Saraya for her performance in Death Of A Poetess
The Aaron Emanuel Award for Best Cinematography: Shai Goldman for Doubtful; Honorary Mention: Bartosz Bieniek for Scaffolding
The Jerusalem Foundation Award for Best Editing: Michal Openheim for The Cakemaker
The Jerusalem Foundation Award for Best Original Score: Daphna Keenan for Family
The Audience Favorite Award: Longing by Savi Gabizon
The FIPRESCI Award for Best Israeli First Feature: Holy Air by Shady Srour
The Van Leer Competition for Full-Length Israeli Documentary Films
The Van Leer Award for Best Documentary: Conventional Sins by Anat Yuta Zuria, Shira Clara Winther
Van Leer Award for Best Director of a Documentary: In Her Footsteps by Rana Abu Fraiha
Honorary Mentions: Born In Deir Yassin by Neta Shoshani; A13901 by Tal Haim Yofee
The Israeli Short Films Competition
The Van Leer Award for Best Live Action Film: Portrait Of My Family In My Thirteenth Year by Omri Dekel-Kadosh
The Van Leer Award for Best Documentary Film: Keren Or (A Ray of Light) by Lihi Sabag; Honorary Mention: The Bride's Tree by Shadi Habib Allah
The Jerusalem Development Authority Award for Best Animated Film: Hadarim by Shlomi Yosef
The Israeli Video Art and Experimental Film Competition
The Lia van Leer Award, courtesy of Rivka Saker: Sleepers by Ruth Patir
The Ostrovsky Family Fund Award: Sham (There) by Thalia Hoffman
The Jewish Experience Awards - Courtesy of Michaela and Leon Constantiner
The Lia Award in honor of Lia van Leer for films dealing with Jewish heritage: The Cakemaker by Ofir Raul Graizer
The Avner Shalev - Yad Vashem Chairman's Award for Artistic Achievement in Holocaust-related Film: 1945 by Ferenc Török