Life of Crime director discussed independent filmmaking alongside actor Mark Boone Junior at the Abu Dhabi Film Festival.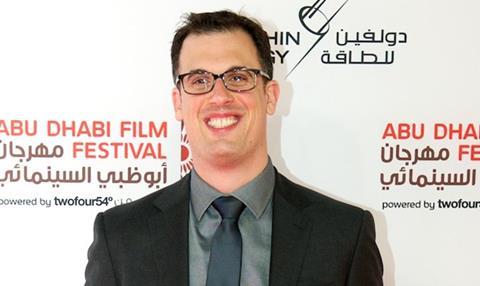 Daniel Schechter, director of comedy caper Life of Crime, has revealed how he asked Jennifer Aniston for advice about making a studio film.
Speaking at the Abu Dhabi Film Festival, Schechter said: "I would talk to Jennifer Aniston about studio movies. I would ask if I should do one or continue on stuff like this?
"She would say studios could use someone like you. You'd be good at it.
"There's a part of me that thinks maybe I could beat that system. Even on this film I had to be political to get what I wanted. I am a reasonable man and a good collaborator. I think I could survive in that role.
"It depends who you are lucky enough to get into business with."
Indie filmmaking
Speaking on stage at an 'In conversation…' event, Schechter discussed the vagaries of independent film-financing, even on a film whose cast includes Jennifer Aniston, John Hawkes, Tim Robbins and Yassin Bey (aka Mos Def).
"My agent told me 'You are not going to know if this movie is going to happen until you're on set that first day'," he said. "I was sort of intentionally left in the dark by the producers."
Life of Crime is an adaptation of Elmore Leonard's The Switch, about two ex-cons who join forces for one big score, and marks Schechter's third film, which closed the Toronto Film Festival and opened Abu Dhabi's last night.
"It seemed to me like everything was going better to me than it was," he said.
"John Hawkes would call me and say is the movie definitely happening because I've been offered another movie. That's quite a terrifying position. But somehow I had wonderful luck and wonderfully hard-working people working on the film".
The Aniston factor
Schechter was initially convinced that the talent would see the film get made for the requisite budget (around $10m) but soon understood that the market has its own ideas.
"I thought the movie was a no-brainer," he recalled. "It cost what Jennifer Aniston gets paid on one studio movie. But it doesn't work like that. This film isn't what Jennifer Aniston does typically.
"Whatever you think it should be, they move that line just a little bit further.
"Initially we had Jennifer Aniston and Dennis Quaid on this film. I was told 'If you get them, we are making this film'.
"But then some things changed. Market conditions changed in some territories, Jennifer's last film didn't do as well in others, etc"
Creative freedom
Schechter and also discussed the creative freedom that comes with independent films.
"I had an absurd amount of creative control," said Schechter. "I had so many producers but not once did someone interfere and say 'Are you sure you don't want it that way?' And I'm very grateful about that".
"I edited this film myself in my apartment. I have a friend who was a phenomenal editor on a New Line film but he wasn't even allowed to touch the keyboard."
Studio system
"I have done a bunch of studio pictures," said actor Mark Boone Junior, whose credits include Batman Begins, Die Hard 2 and TV series Sons of Anarchy.
"I stopped doing them for a number of years because of a terrible experience I had on one of them. Movies are so often made by committee in the studio system…
"I've heard of a producer getting the editor to cut a film while the director is out to lunch. I wasn't really interested in spending more time in that situation."
Looking at what studios are currently offering, Boone added: "So many of the films studios are making are action films based on comic-books. What's going on there?
"I didn't read comics because I found them void of human stories. They are all about ego and not about people and having a relationship with the world."