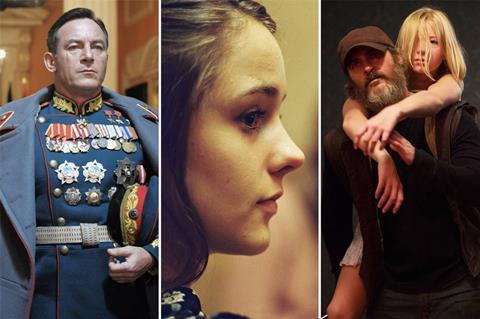 The nominees for Screen International's inaugural Best British Film of the Year award have been revealed.
The winner of the new award will be voted for by Screen International readers online (see below) and will be announced at this year's Screen Awards ceremony held on November 29 at The Ballroom Southbank in London. Voting closes on October 30. This year's other Screen Awards nominees have already been announced here.
The top ten was selected by Screen International's team of critics based on films that received a UK theatrical release during the Screen Awards eligibility period (October 1, 2017-September 30, 2018). Titles were defined as British based on BFI or BAFTA criteria.
The nominees are: American Animals (STX Entertainment); Apostasy (Curzon Artificial Eye); Beast (Altitude Film Distribution); The Death Of Stalin (eOne); Film Stars Don't Die In Liverpool (Lionsgate); The Killing Of A Sacred Deer (Curzon Artificial Eye); McQueen (Lionsgate); Paddington 2 (Studiocanal); Three Billboards Outside Ebbing, Missouri (20th Century Fox) and You Were Never Really Here (Studiocanal).
To vote for the winning film, select one of the options below.
This year's nominees
American Animals
Dir. Bart Layton
Producers: Katherine Butler, Dimitri Doganis, Derrin Schlesinger, Mary Jane Skalski
UK distributor: STX Entertainment
UK release date: September 7, 2018
Apostasy
Dir. Daniel Kokotajlo
Producers: Andrea Cornwell, Marcie MacLellan
UK distributor: Curzon Artificial Eye
UK release date: July 27, 2018
Beast
Dir. Michael Pearce
Producers: Kristian Brodie, Lauren Dark, Ivana MacKinnon
UK distributor: Altitude
UK release date: April 27, 2018
The Death Of Stalin
Dir. Armando Iannucci
Producers: Kevin Loader, Nicolas Duval Adassovsky, Laurent Zeitoun, Yann Zenou
UK distributor: eOne
UK release date: October 20, 2017
Film Stars Don't Die In Liverpool
Dir. Paul McGuigan
Producers: Barbara Broccoli, Colin Vaines
UK distributor: Lionsgate
UK release date: November 16, 2017
The Killing Of A Sacred Deer
Dir. Yorgos Lanthimos
Producers: Ed Guiney, Yorgos Lanthimos
UK distributor: Curzon Artifical Eye
UK release date: November 3, 2017
McQueen
Dir. Ian Bonhôte, Peter Ettedgui
Producers: Paul Van Carter, Nick Taussig, Ian Bonhôte, Andee Ryder
UK distributor: Lionsgate
UK release date: June 8, 2018
Paddington 2
Dir. Paul King
Producer: David Heyman
UK distributor: Studiocanal
UK release date: November 10, 2017
Three Billboards Outside Ebbing, Missouri
Dir. Martin McDonagh
Producers: Graham Broadbent, Pete Czernin, Martin McDonagh
UK distributor: 20th Century Fox
UK release date: January 12, 2018
You Were Never Really Here
Dir. Lynne Ramsay
Producers: Rosa Attab, Pascal Caucheteux, Rebecca O'Brien, Lynne Ramsay, James Wilson
UK distributor: Studiocanal
UK release date: March 9, 2018