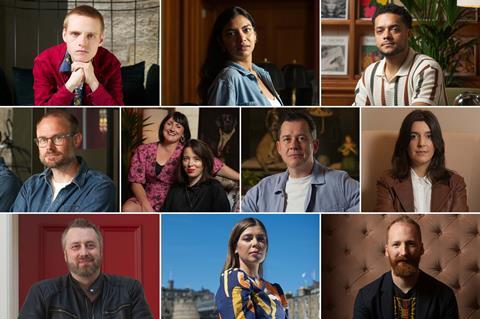 Screen International, in association with Screen Scotland, has revealed the line-up for the first-ever Rising Stars Scotland, a major new talent spotlight for Scottish filmmakers and actors.
The programme aims to identify and promote the next generation of Scottish film talent to the international industry. Rising Stars Scotland is a joint initiative from Screen Scotland and Screen International, and is an offshoot of Screen's UK & Ireland Stars of Tomorrow programme.
The line-up features 11 up-and-coming film actors, directors, producers and writers (10 talents, one a producing duo) who are on the cusp of their first major professional breakthrough. All those selected are either originally from or currently living in Scotland.
Read more about each Rising Star below:
The Rising Stars were unveiled at an event last night (Sunday, August 14) at Edinburgh's National Portrait Gallery during the Edinburgh International Film Festival.
Each Rising Star will be matched with an industry mentor who can help move them on to the next stage in their careers. Mentors include Gillian Berrie, co-founder and editor at Sigma Films, Lizzie Francke, editor at large at BFI Film Fund, and Dan MacRae, SVP of production and development at Studiocanal.
Screen Scotland will work with the participants to offer a bespoke package of professional development over the following 12 months. Support offered will focus on connecting talent to key decision-makers and influencers to elevate their international profile and progress career objectives.
The selection was made by Screen's chief film critic and reviews editor Fionnuala Halligan, who has overseen Screen's UK talent selection for the last 12 years.
Halligan said: "Rising Stars Scotland is a natural progression for Screen International's UK & Ireland Stars of Tomorrow, running since 2004. It has certainly been clear for a long time that there's a volcano of talent bubbling up in Scotland, and Screen's UK showcase couldn't quite capture that heat. Certainly, the production boom has propelled the industry, but the creatives selected all have special voices unique to Scotland and those who work there."
Isabel Davis, executive director at Screen Scotland, said: "Rising Stars comes out of a recognition of the incredible creative talent coming through from Scotland right now, and our desire to shout about it."
Added Halligan: "On a personal level, curating this issue has been a source of great joy, and the support of Screen Scotland has made it a better programme for these talented individuals than I had ever imagined. Screen's great thanks, then, to the whole team at Screen Scotland - Sarah Smyth, Louise Acheson, Kieran Hannigan, and David Smith - and most of all Isabel Davis - for their clear passion in their goal of championing new talent."