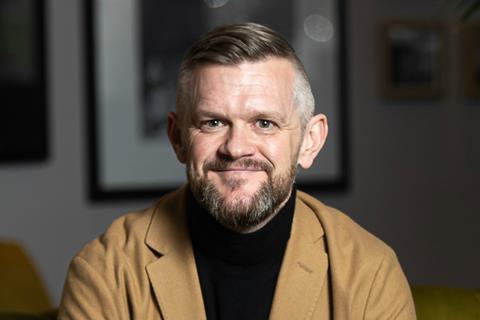 The new CEO of the British Film Institute (BFI), Ben Roberts, has revealed that guidelines to resume film and TV production in the UK are "being worked up at speed" in a time of social distancing due to the Covid-19 pandemic.
In a wide-ranging interview with Screen International editor Matt Mueller, Roberts said a cross-industry Screen Sector Task Force was hard at work on protocols that will be presented to the UK government in a matter of weeks and hoped to get a "quick greenlight" to get inward investment productions and the independent sector back online.
Roberts took up the top role just four weeks before the emergency shut down the industry in mid-March, closing cinemas, halting film shoots and leaving thousands of freelancers out of work.
In his first major interview with Screen since taking the position, he discussed those first weeks; a breakdown of the BFI's Screen Sector Task Force; and both the challenges and opportunities presented by the virus crisis.
"What this has shown us is that there is real vulnerability in our workforce and we need to really think very seriously about how we ensure that our workforce is less vulnerable both as individuals and as a workforce that needs to carry on working," he said.
Highlights of the interview can be read below and the full video can also be watched here.
What were your first few days like in the role, particularly once the scale of the pandemic became evident?
We were thinking that maybe we would be locked down for a week, which seems mad now but we couldn't get our heads around this concept. The order of events for us was, ok, [LGBTQ+ festival BFI] Flare's not going to happen; we weren't going to get international visitors to the event; we were running the risk of being closed midway through the event so that was a very sad decision. But the next decision was, "Let's get online and let's see if we can run a version of the festival online." Thank god for BFI Player because we had a channel set up and ready to go. It was a very early innovation for us.
The decision to close [exhibition space BFI] Southbank was partially ours but also partially not ours, given there was a government decision about what should happen to public spaces. Then my job and the job of the executive of the board became two-fold. One, we've got to look after an organisation of 500+ employees and all of our activities and estate. And then immediately having to leap to what quickly became a very urgent challenge around the workforce. That was definitely a day one challenge. How do we quickly try and get some very immediate need to the most challenged part of the workforce? So those are the first few days. All thoughts of my grander plans and strategy are there but have somewhat gone on hold.
Can you give us an overview of the Screen Sector Task Force?
It's a very pan-industry group, which was initially set up for conversations around Brexit. It captures all the stakeholder groups that you would expect: the major trade bodies, broadcasters, pretty much everyone across film, TV and the game sector.
We're looking across five main areas and they've all been broken down into recovery groups. There's an inward investment group, which the BFC are leading; there's a domestic TV production and broadcasting group, which John McVay and Pact are leading on; there's an indie film group, which I'm going to chair; there's a distribution and exhibition group, which the UKCA and the FDA are chairing; and there's a games group, that Jo Twist from UKIE is running at the same time.
In terms of individuals, it's double what it was for the Brexit group. The plan is to look at what is needed in terms of the unresolved live, short-term issues which we need to deal with now. They're being prioritised and they are outstanding issues relating to workforce, issues around rent, particularly as it relates to the cinema estates.
Then, the group is going to be mostly focused on how we move towards swift and safe recovery. Two primary areas that we're looking at – but there will be many more – are, in the short term, insuring there are safe space protocols in place both for production environments and exhibition environments.
Beyond that, how do we make sure that we retain our competitive edge as an industry? We have been a fantastic growth story as a sector for some time now and we need to look, as groups, as to what longer-term structural changes might be needed to ensure that we retain that competitive edge.
Proposals will start to channel through anywhere from a matter of weeks through to the rest of this year, based on urgency of need and priority.
Talking about your own existing funds, can you talk about how you're redistributing money to help those in need?
First thing to say is we're open to business, as usual. Our funds are open, our funding streams are open and our teams are taking applications as normal.
Production, obviously, has somewhat stopped temporarily. What we did, just going into shutdown, was made some additional money available for a number of productions that were facing some short-term enhanced shutdown costs. We are about to launch the Continuation Fund, which is for those independent productions – and not just the ones that we'd already got lottery money in – that were in late prep or already shooting and have been paused. I think that will have to be administered on a first come, first served basis, which is why we're running it for a month so we can ascertain how many affected productions there were.
On the audience side, on the exhibition side, we've already opened the Resilience Fund, which is running through the Film Audience Network and has a strong focus on supporting the indie cinema sector, film festivals and touring operators, where they are not eligible for certain government schemes. Some staff costs where government schemes aren't capturing, some unpaid expenditure, some rent costs.
So that's a couple of our repurposed funds. We're doing all we can to make sure that our open schemes are as flexible as possible at this time.
The Covid-19 Film and TV Emergency Relief Fund, which you set up with the Film and TV Charity, reached £3m with donations but fell £2m short of applications. What steps are being taken to address that gap.
The first thing to say about that fund is that it has demonstrated exactly what the scale of the need is. We know that there are approximately 20,000 PAYE freelancers who we think have fallen out of schemes. Thank god for that fund and kudos to Alex [Pumfrey] and the Film and TV Charity fund for all the work they've been doing. I know there's a plan to do a further fundraising round.
Ideally, we would see further contributions coming from industry and hopefully this gap that has clearly materialised between the amount of money raised so far and the scale of the need will help us in future fundraising rounds.
Are there any impacts from loss of revenue yourself in the closure of BFI Southbank, for instance?
Yes. It's massive and overwhelming. As well as looking at how we support the industry, we, as an organisation, we're a public body but actually only a third of our income comes from government funding. We are very reliant on income through our commercial activities. Like many others, it's all just stopped.
We're lucky because we do have a seam of funding that comes from government but it's not enough for us by any means so we are also having daily conversations about our cashflow, our viability as an organisation. It's tough.
Will you have to look at the budget for the London Film Festival, for example?
LFF is obviously a key question at the moment in terms of what LFF is going to look like. We're all dealing with the same unknowns in terms of when we think we're going to be back online. There are some big decisions we have to make for LFF in the next few months. At the moment, we are planning for LFF. [The LFF Is due to take place from October 7-18, 2020.]
I do know that festivals, including LFF and the autumn season, if we are back… in some form by then, it will be an important moment in reminding audiences what a particular pleasure the communal experience of watching films in the cinema is. Obviously, it's a major conversation at the moment and we're scenario planning the hell out of it.
What measures are you looking at in terms of the production side of the industry, which has totally shut down?
The first thing to say is that guidance is being worked up at speed regarding safe spaces, set safety and how you could operate a set under some existing social distancing measures. Guidelines will be worked up in a matter of weeks and will cover everything from physical production, locations, VFX. Also, we will have to run those guidelines through government. We'll have to run them through Public Health England, we'll have to make sure we're in agreement with the unions. But what I will say is government is very keen for production to start again as soon as possible.
The other side of this coin is the exhibition sector. The distribution and exhibition group is making sure there is a similar set of protocols in place so that when that area of business is allowed to open again by government, the protocols are in place and we can make audiences feel that we are a safe environment to return to. At the moment, there is definitely a plan for best, prepare for the worse scenario. The best might be some point in June, the worst might be some point in September but who knows.
Are there any discussions you're having to jumpstart the independent production scene back up again once measures are in place and lockdown restrictions have been lifted?
There is going to be a cost for productions getting back up and running. There's a broader opportunity for the independent group to look at how we change the fortunes of the independent sector for the better and for the long term.
My hope is that, where you can look to learn or benefit from a challenging situation, how can we radically rethink what the model for independent film looks like in terms of distribution, finance, production. There is the immediate short-term issue around getting productions back on track, but there is also a much longer-term need to make sure that independent film is healthy and I think that the group will absolutely need to focus on recovery. But, no doubt, we will talk about longer term structural and maybe even legislative changes.
What has the current situation forced you to confront?
The big opportunity here is to reframe what an online release means to distributors, financiers, audiences and cinemas hopefully as well. What is happening is that the rulebook is slightly thrown to one side and there'll be an increasing amount of necessary experimentation with how you can get a film in front of an audience, particularly with all those films that have fallen off the release calendar over the summer and will struggle in some instances to get back on it when we get back online.
This isn't about being opportunistic. This is about necessarily finding a way to audiences. Given that we're in a certain freewheeling moment, I think that lots of different models will emerge and some of them won't work, some of them will be really successful in terms of generating a scale of audience that perhaps we hadn't seen before. Then we need to start to grab those concepts and models and see whether they are viable from a financial point of view rather than a disaster recovery point of view.
Is there a plan to coordinate a practical production plan with production insurers?
This has emerged as one of the major challenges for production. There is no question that, alongside ensuring safer environments, it's probably the major issue that we need to get sorted as soon as possible and that the Task Force will deal with. I think that if pandemic insurance coverage or Covid insurance coverage or the guidance as it currently exists no longer works then there will need to be a backstop insurance position needed and that's obviously something we'll need to talk to government about.
Given the considerable income generated by inward investment, should that be the priority – to restart UK film and high-end TV production in the UK?
Yes! If the government feels comfortable with the procedures and protocols that we were able to put through to them via the BFC group, then that will hopefully give us a fairly quick greenlight to get back to work. But at the moment, to be honest, a lot of that does rest in our hands. I think the responsibility is on the Task Force, the recovery groups, everyone that is working in those groups to get that together as quickly as possible. As I said before, I think we are somewhat ahead of the curve in that regard and will hopefully have something in to government in a matter of weeks.
Is there a danger the financial marginalisation that is going on could potentially undo all the good work the BFI has been leading on to improve diversity and representation in the industry?
I think there is a danger. Not specific to the film industry but the scale of financial devastation on the most impacted individuals is significant. What this has shown us is that there is real vulnerability in our workforce and we need to really think very seriously about how we ensure that our workforce is less vulnerable both as individuals and as a workforce that needs to carry on working. Yes, we are very focused and have been for some time on making sure that the ramp is down and that everyone can get on to it that wants to work in film and have a creative practice or a job in the industry.
We will definitely learn some more lessons from this and I would say that yes, we will have to make sure that everyone feels equitable on the other side of Covid because there will otherwise be a massive impact on cultural output. What we need to emerge from this moment is a real diversity of storytelling and experience and response, and I don't mean 25 isolation dramas. I mean, as all great art says something really interesting about particular moments in history. This is one of those moments.
In your opinion, do you think the theatrical experience will emerge stronger or will the damage be hard to repair once we're out of this?
Putting to one side the not insignificant practical challenges of getting cinemas open and operating at full speed, which will happen over a period of time, do I believe that from a cultural and habitual point of view, people will go back to cinemas? Yes, I do and I think it's really important they do.
The cinema experience is not the same as the streaming experience. They are equally valid. I think cinemas will get back over a period of time and we'll support them as best we can to that point.
Are there discussions about having a celebratory fundraiser around the Baftas next year?
I'm holding fortnightly calls with Bafta. By that point we will have a real sense of who has been long-term impacted by this situation and who has struggled most to recover, even with all the government and public funding support. Who is struggling? Is it the independent sector, independent cinemas, freelance sector? Then we can really think about who needs long-term sustained support. We have a few months to try and right the ship. I'm an optimistic person so I do feel we will go some way to righting the ship but if a fundraiser is needed, is it needed for us as a sector or others outside our industry who need it more than us?
We're working well together as an industry. The key issues are really starting to clarify. As a community, we're a very strong creative community and I'd encourage everyone to feel optimistic but none of us underestimate the scale of the challenge. It's a case of getting our heads down, working hard and being the professionals that we all are. I think we need to give each other a collective group hug and get on with trying to figure things out.