Jérôme Paillard, executive director of the Cannes Marché du Film, has confirmed that "over 200" sales companies are already registered to take part in the online market that will run from June 22-26.
Taking part in the latest Screen Talks webinar session hosted by Screen's editor Matt Mueller, Paillard said the Marché is "not recruiting" for participating companies.
"Sometimes we had some companies we never heard of, they say, 'I want a booth'," said Paillard. "We say, 'Sorry, no, it's really for regular exhibitors from Cannes or AFM or Berlin.' It's not something where sales companies can just arrive and say, 'I want to have my booth.' Sometimes it's difficult to explain to people that we really want to concentrate on the main sales companies."
The Marché announced its online dates on April 15, but Paillard revealed preparations for a virtual edition had begun back in February.
The decision to move online came "little by little", he said. "Soon after Berlin we felt it was not so sure that Cannes could happen. We felt from the beginning that if we had to move, the attendance would not be as usual.
"When the decision finally arrived, we had made a little part of the move to say, 'Let's do it virtual.' Then we had to really start to do it. We wanted to replicate as many sides of possible of the Marché. It's what we are still now doing."
Paillard explained that the five-day running time – shorter than the typical market (last year's ran for 10 days) – is partly down to people's expected attendance at an online event as opposed to a physical one. "We realised that working during the weekend would be difficult during the summer," he said. "It's something different being in Cannes during the festival and spending the week there, and being at home or at the office during the weekend, during a virtual Cannes.
"We know it will be a little bit too short, so we will be able to continue over the weekend. Meetings can continue – maybe we'll still have some conferences on the Saturday," said Paillard. "The big difference we have is we don't have the issue of finding venues – no number of seats or number of screens limitations."
Homepage snapshot
The director outlined plans for the online Marché with the webinar audience, both through spoken details and through images shared from his screen, including one of the homepage and various interfaces.
The homepage (below) hosts seven separate block-colour shapes representing different parts of the Marché: sales agents, cinemas, institutions, Cannes Docs, Cannes XR, programs, and the Petit Majestic – the virtual meeting place.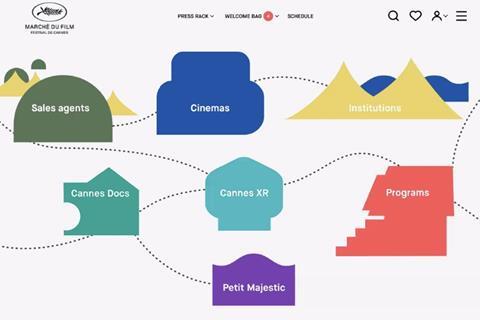 There are also drop-down menus for a press rack, where online versions of trade publications including Screen will be available each day; a digital 'welcome bag'; a link to the schedule; and a space for live events including presentations, conferences and concerts.
The aim was "for people to be able to navigate as they do in Cannes," said Paillard. Screenings will run on a platform based on online film network Cinando, while video meetings will take place via the Marché's German-built networking app Match&Meet. Italian platform b.square will also be used for one-to-one meetings.
The Marché has an official partnership with video conferencing platform Zoom, and will use Vimeo for longer conferences.
Timezones, screenings and press
Paillard confirmed that screenings will play at the same time of day in every time zone, not simultaneously across the globe – so Asian time zones will receive them first, followed by European and American time zones.
"Not everyone will see the film at the exact same time, but at the same local time," he said, "which is much more comfortable for the buyers, and for sending out the information about the screeners."
Accredited delegates can access a screening within its first hour (provided they have been invited or approved on request). It will be possible to leave before the end and enter a different screening; however, when a viewer enters an online screening room, the title will always begin from the start.
There will be no dedicated press screenings for the online market: sales agents will be able to set their screenings to allow accredited press or not for each of their films.
Paillard highlighted the difference in access for the "professional" press – trade publications and critics – and the "general press". The former group will be able to attend the online Marché, while the latter will need to go directly to companies for screening links.
"It's very important to be clear that this is a Marché, this is not a festival online," he said. "Thierry Frémaux has been very clear on that. We are on the same line on this aspect."
The market will use online streaming service Shift72 to play films; Paillard reassured viewers of the site's capacity to handle large numbers of viewers, and said security is also of paramount importance.
"We use a very robust technology, very scalable on Amazon with load balancing," he said. "We should not have a problem [with too many users]."
"The security is mostly on the question of screenings. We know Shift72 is very robust – they are MPA [Motion Picture Association]-compliant."
"Of course, you'll never be protected from someone filming the screen," he noted. "We'll have a company which can follow if some contents have been captured from the screen."
Regarding the anticipated Cannes 2020 label for films which would have premiered in this year's Official Selection, Paillard said he doesn't "have any secrets" regarding how many films will be chosen, and reaffirmed the commitment of festival director Thierry Frémaux to announce the chosen titles by the end of May or beginning of June.
Here to stay
Paillard anticipated that, "fortunately or unfortunately", the virtual market is here to stay in one form or another.
"Nobody knows what the [coronavirus] situation will be in one year," he said. "We see [the virtual market] as an acceleration of something which was happening anyway, because of the environmental questions and economical questions.
"In the coming year and years, the Marché will have to offer an alternative: to have people having a physical presence, but also to open it to people not able to travel.
"For the conferences it's not difficult; for the screenings maybe some sellers will agree to have their films also shown online, maybe not in local time," he continued. "The most difficult part is for the networking events; it's a bit difficult in the same networking event to have people present and not."
He added that he and his Marché colleagues are in discussions with representatives from Toronto, Sundance and Berlin regarding solutions for the future.
Details for the next Screen Talks webinar will be announced shortly.