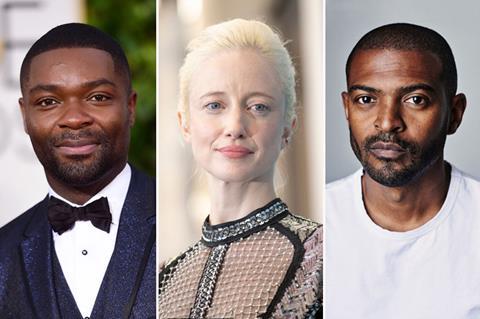 David Oyelowo, Andrea Riseborough and Noel Clarke will be in conversation with Screen International editor Matt Mueller in the next edition of Screen Talks on Thursday June 4 at 16.00 BST.
The trio of UK actor/producers – who were all named Screen Stars of Tomorrow in the early stages of their careers – will share their experiences as actors and producers during the coronavirus shutdown, including how they're keeping inspired, future projects and their views on the production guidelines that will allow the resumption of shooting on film and high-end television projects.
Following a 45-minute conversation with Mueller, Oyelowo, Riseborough and Clarke will also answer selected live questions from attendees. Questions can also be submitted in advance here.
The Screen Talks series of live Q&As has been running since early April as Screen looks to serve the international industry in these challenging times by exploring a full range of urgent conversations across all sectors. Previous episodes of Screen Talks are available to watch on our YouTube channel.
Panellists
David Oyelowo is a multiple Bafta- and Emmy-nominated actor and producer whose credits include Selma, A United Kingdom, Don't Let Go and the BBC and PBS's six-episode adaptation of Les Miserables. In January, Come Away, in which he stars opposite Angelina Jolie as well as produces through his Yoruba Saxon banner, had its premiere at the Sundance Film Festival. Oyelowo is set to star alongside Felicity Jones in Netflix project Good Morning, Midnight, which George Clooney is directing. His own directorial debut The Water Man, written by Emma Needell and produced by Shivhans Pictures, is currently in post-production.
Andrea Riseborough is a Bafta nominee and BIFA best actress winner (for Shadow Dancer) whose screen credits also include Made In Dagenham, Oblivion, Birdman, Mandy and The Death Of Stalin. Upcoming, Riseborough will be seen in Brandon Cronenberg's Possessor and Zeina Durra's Luxor, both of which premiered at the 2020 Sundance Film Festival. She recently completed production on BBC Film's Here Before and Amazon and Studiocanal's Louis Wain opposite Benedict Cumberbatch. Under her production banner Mother Sucker, Riseborough starred in and produced Nancy, which premiered at the 2018 Sundance Film Festival.
Noel Clarke is an actor, writer, director, producer, comic-book author and winner of the Bafta Rising Star award in 2009. Clarke's writing career started with the feature screenplay for Kidulthood, which was released in 2006 and in which he also starred. The sequel, Adulthood, followed in 2008, which Clarke produced, starred in and directed. In 2007, he set up Unstoppable Film & Television with business partner Jason Maza. Now part of the All3Media group, the company's film and TV productions include 4.3.2.1., Storage 24, The Hooligan Factory, We Are Monster and Brotherhood. Currently, Clarke is starring in Sky One's Bulletproof, which he created alongside Ashley Walters.