Actors and filmmakers David Oyelowo, Noel Clarke and Andrea Riseborough have discussed their hope that "more accountability can be demanded" following the death of George Floyd at the hands of US police, and the Black Lives Matter protests that are taking place in the US, UK and across many parts of the world.
The UK trio were speaking with Screen's editor Matt Mueller in the latest edition of the Screen Talks live Q&A series. The full video of the session is available to watch below.
"It's been incredibly traumatic, saddening, debilitating," said Oyelowo, who has been in lockdown in Los Angeles since mid-March. "I am not the kind of guy who struggles to get out of bed, and I've had quite a few days of that recently."
Oyelowo cited Floyd's death and the disproportionate number of people from BAME communities affected by Covid-19. He also noted an incident in Central Park in New York on May 25 – the day Floyd died – when Amy Cooper, a white woman, invoked the ethnicity of Christian Cooper, a black man, when she tried to get him arrested after he asked her to comply with park rules and put her dog on a leash. Cooper has since been fired by her employer.
"The horror of that situation really highlighted what we as black people are facing," said Oyelowo. "Amy Cooper is the kind of person who, had that incident not happened, would probably be marching and protesting against the death of George Floyd as we speak, calling herself a liberal, calling herself a Democrat, calling herself an upwardly mobile, educated New Yorker."
"A lot of the time it's not from people who are overtly like that; it's from the people that believe they're not, but they just cannot see it," said Clarke. "They look at situations and go, 'I just don't see it', but not seeing it is not good enough, it's not acceptable, and now things need to change."
"This implicit bias that we as black people talk about and are made to feel crazy when we talk about – it just feels like a moment where, for a time, people are looking at us and going, 'Oh, I think I see what you're talking about now'," added Oyelowo.
"For me, in the last week or so is trying to explain to my nine-year-old who asked the question why black men get killed by the police," said Clarke, who has been in lockdown in his native London.
"We as a people reached a breaking point. There's only so much fear you can feel where you don't speak out. This has been a point where the things that have happened in the last week or so have brought us to our breaking point, where people have to speak out. There are intrinsic, systemic, institutionalised things that have to change."
Both men noted that there have been many previous false dawns regarding racial equality, but also saw potential for hope.
"We have been here before from a place of hope, of things are going to change," said Oyelowo. "I do think this is a different moment than we've ever seen before. But I am determined, and I'm hoping white people who've been beneficiaries of this system will be determined going forward, that this will not be a blip, this will not be a moment.
"This will be a point beyond which they can agree to be held accountable to ceding some of the power that they have been afforded, benefitted from. They can cede some of that power in order for a more equal world. It feels like a moment beyond which more accountability can be demanded. And if I have anything to do with it, certainly will be demanded."
Fellow UK actor and producer John Boyega was at the forefront of a Black Lives Matter protest in London's Hyde Park yesterday (June 3), and during a powerful speech said "I don't know if I'm going to have a career after this."
"Ten years ago, it probably would have [damaged his career]," said Clarke. "I think the years and years of breaking boundaries have got to a point where John Boyega is going to be absolutely fine. But that's not the point; the point is he's still fearful. That is what we've been going through – for as long as this industry's been around, but in life generally for hundreds and hundreds of years – the fear of saying anything because then you will be without, and you will be done. This time hopefully there is a systemic, institutional change that will come from this."
Pre and post-lockdown projects
All three panellists were named Screen Stars of Tomorrow earlier in their careers: Clarke in 2004, Oyelowo in 2005, and Riseborough in 2006. As producers and actors, they had busy schedules prior to production shutting down across the world.
Riseborough flew home to Los Angeles from the Dominican Republic on the day she had been due to start filming on DuBois Ashong's thriller Geechee for Stuart Ford's AGC Studios.
She was also a few weeks out from production in Coney Island, New York on Supernova. Riseborough was producing the film through her company Mother Sucker with Barbara Broccoli, starring herself alongside Whoopi Goldberg, Karim Saleh and Kate Walsh. Angelica Zollo (Broccoli's daughter) was set to direct.
"It's a blow," said Riseborough, mentioning the project had "an all-female crew, a lot of people depending on the work".
"I really don't know when we'll be able to shoot that again. It really had to be shot on Coney Island. It may be one of the last chances we get to shoot Coney Island in its current state where it still retains some of its archaic mystery."
"If our financiers are watching – please god, have faith!"
Oyelowo said the delay on one project about boxer Sugar Ray Robinson – Sweet Thunder, which he has been attached to for a long time and which Nate Parker was set to direct in August – has brought forward another.
"We dusted off a script that Nate had written a while ago [Solitary], about a guy who endured seven years in solitary confinement and was now adapting to the world around him," said Oyelowo. "And what we've done, which has been a masterstroke, you now have this guy coming out of solitary confinement into a world that has been self-isolating because of the pandemic. So has his reality morphed into the reality of the world?"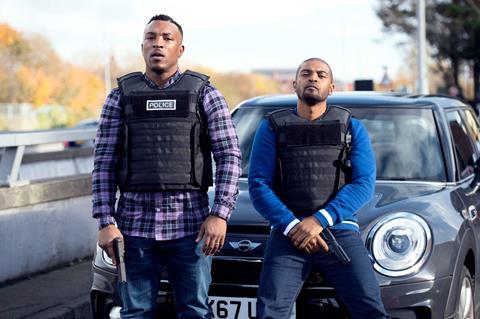 Clarke, whose delayed projects include a feature he was about to star in and a network TV show, said scheduling conflicts have a particularly detrimental effect on television, citing his own experience through Bulletproof, the Sky One series produced by his Unstoppable Film & Television.
"I work with Ashley [Walters]," said the filmmaker. "Ashley has another show, Top Boy. That's not a six-week shoot – both our shows are eight-month shoots. Whoever's in first call gets to shoot first, and then the other show's going to have to wait another eight months."
For shows of lesser renown, that could be a problem, he said. "They might be like, 'By the time we wait and then it's shot and then it's brought on, it's going to be two years since the last one. Is there a point in putting it on two years since the last one? Will anyone remember it?'"
Audience control
Riseborough said the growing importance of streaming companies bears similarities to the evolution from silent film to talkies. "In order to bring sound to the world we made our sets totally quiet, you can hear a pin drop," she said. "That was a really difficult transition for those people who already inhabited that world. This is a wonderful opportunity, but we haven't caught up to ourselves yet.
"In terms of the Academy, in order to get an award you have to have a theatrical release. I really think everything on demand should be able to be nominated," she added.
On the topic of awards, Oyelowo issued a passionate call for Bafta to distance itself from the Oscars and forge its own identity (full story here). He also said audiences will control the future direction of the industry. "That's what caused #OscarsSoWhite. The audience went, 'No, we do not subscribe to that', and it meant that the business had to adapt," he said.
"The audience are speaking by what they subscribe to; if our business decides to dig its heels in and says, 'No, you are going to have to watch things within a certain theatrical window', you watch what happens. Netflix will buy all of those theatres, and those people will become Blockbuster.
"It's with us. The change is with us. Either join the revolution or get left behind."
Details of the next Screen Talks live Q&A will be announced shortly.