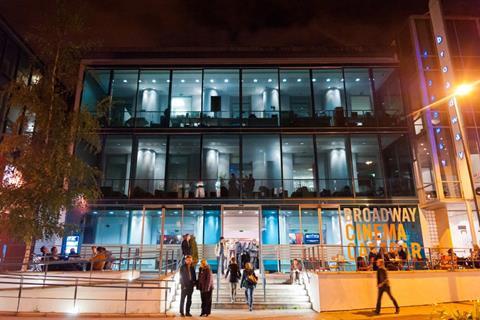 Nottingham's Broadway Cinema has won the inaugural Innovator Of The Year award at the Distributor Slate Day in London.
The cinema was selected from a strong shortlist of five UK exhibition and distribution organisations which have launched successful initiatives to grow UK theatrical audiences in the past 12 months.
Broadway Nottingham was selected for its new ticket pricing aimed at growing its under 25 audience. Since introducing a cheaper ticket for the youth audience last year, the venue has seen a 20% increase in under-25 admissions.
The award was administered by the Film Audience Network and the BFI, and sponsored by creative studio Powster. Screen International selected the winning campaign.
The winner was revealed today in London at the Distributor Slate Day, which saw more than 25 UK distributors present upcoming films to more than 300 exhibitors.
Shortlist:
Scottish Queer International Film Festival
Visible Cinema, GFT
Black Gold Arts Festival | STRIKE A POSE: Dance Cinema Event
Broadway | Under-25 Offer
Gulbenkian 2ForTuesday campaign and Uncovered
Scottish Queer International Film Festival
On meagre resources the festival is leading the way in ensuring that it is fully accessible, which includes only using accessible venues, all screenings are subtitled, captioned or have BSL interpretation, providing childcare, putting on events which privilege the safety and inclusion of specific audiences and they are piloting a new sliding scale pay-what-you-can model.
Visible Cinema, Glasgow Film Theatre
Firmly established screening programme that supports deaf and hard of hearing audiences.
Black Gold Arts Festival | STRIKE A POSE: Dance Cinema Event
Black Gold Arts Festival with the help of Queer Media secured the Northwest premiere of documentary Strike A Pose, the story of Madonna's most famous troupe of dancers. The film was screened at the community based multi-arts venue Z-arts and at HOME, Manchester, and was accompanied by a dance piece choreographed by rising star Natasha Gooden and performed by Manchester favourites House of Ghetto. The successful event sold out at both venues and brought in a truly diverse audience. Being a primarily theatre and dance focused festival, this was the first time Black Gold Arts Festival ran a cinema based event. Due to its success, they are now planning for film to be a major part of the festival going forward.
Broadway | Under-25 Offer
In summer 2016, Broadway Nottingham launched a new ticket for audiences under 25 years old, priced at £4.50, a £3.90 reduction from a full priced ticket. A pilot scheme to test commercially viability, the ticket is valid any day, any time, on any screening.
The new scheme was in line with Broadway's efforts to make cinema-going as inclusive and accessible as possible, and came months only after introducing 'Broader', a new strand looking to expand the breadth of Broadway's programming.
The scheme proved to be very successful, with 18,000 admissions purchasing an under-25 ticket during the nine-month period August 2016 - March 2017, a 20% increase in under-25 admissions for Broadway.
Gulbenkian 2ForTuesday campaign and Uncovered
Based on the University of Kent campus, the Gulbenkian venue has revitalised the youth audience. Film Hub South East supported one of the venue's staff to attend the ICO REACH course and the project developed from that, in consultation with the students. The team rebranded its marketing and drew up a strategic and targeted campaign to increase student attendance. They created the 2ForTuesday campaign, which gave students half price tickets on a Tuesday, which was launched at the Fresher's event and through a social media campaign across Twitter, Facebook and Instagram.
It also added value to the screenings with themed activities and promotions including Q&A with directors, themed parties, drink offers and a special group booking for student societies. Student attendance at the venue had been 15% across all activity in 2016 and it is now up to 24% for cinema activity.
In addition to this focus on increasing audience attendance for new releases, Gulbenkian set up Uncovered, involving students in the selection of film titles and provides mentoring, advice and a platform to create cinema events around both new and archive titles. It is about to launch a series of films in unusual places around the campus. FHSE is now working with a number of venues in the SE to roll out the 2for1 offer as a joint pilot targeting under 25 year olds.