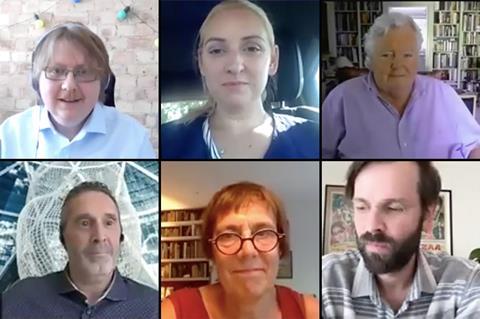 Independent cinema is "in freefall at the moment", but should use the coronavirus-induced shutdown as a chance to reassess its economic and ecological priorities, according to Screen's latest ScreenDaily Talks webinar.
The full panel is available to watch below. It was sponsored by the Calgary Film Commission, and hosted by Screen contributing editor Michael Rosser.
"Independent cinema is certainly in deep trouble. and it was before the Covid situation," said the UK's Rebecca O'Brien, Ken Loach's longtime producer at Sixteen Films. "People forget that the independent sector is the testbed and the learning place for people coming into the industry." O'Brien said there are currently "so many things which are obstacles for independent films to thrive. It's in freefall at the moment."
However, the I, Daniel Blake producer said the industry could use the coronavirus shutdown to make fundamental changes and return to its roots. "One of the reasons I've stuck with smaller independent films is that it's easier to manage," she said. "You can break it down to the simple things that everybody can understand and can work with."
Productions should look to scale down as a means of prospering in the new landscape, she noted. "Productions have grown to be so gigantic, it's really quite difficult to keep a handle on looking after it properly. People are far too willing to fly off on a recce; the carbon footprint of production needs to be just thought of more carefully all the time."
"Does every actor need to have their own private car and driver? With Ken Loach, we all get the minibus, the cast and the crew. I'm on it and Ken's on it and the leading actors are on it, and we find a church hall where we will set up, rather than having honey wagons and caravans – and our footprint is literally a lot smaller. We need to do some really lateral thinking."
Luke Azevedo, commissioner for film, television, and creative industries at Canada's Calgary Economic Development, said industry priorities have changed across his career and particularly now with the pandemic. "The three questions used to be: 'what's your incentive?' 'what's your crew base?' and 'what's your infrastructure?' Now the first question is 'are you a safe area, and are your protocols meeting the criteria that we need to be able to come into your area to film?'"
"We've been a safe area," he said of the impact of Covid-19 on the Calgary region. "We tested in a significant way understanding what Covid impact was on our province very early. We isolated for a good period of time, and we have now come into phase two of reinvigorating our economy. We have now identified that film and television can move forward, within the safety protocols that are necessary."
Azevedo noted two potential positives as the industry changes in the coming months, the first being technological. "You can time two monitors in two different parts of the world. Latency is almost non-existent; you can be doing post-production and having a director and producer viewing it in their home without having to travel," he said.
The second is the effect on the local area; Azevedo mentioned the standing film sets the Calgary Film Centre has, with the potential to house productions without substantial coming-and-going.
"People are flying in at the beginning of the production and, instead of going home to Los Angeles every weekend, they'd be spending more time in your region," he said. "There will be more attention put on to regions that will accommodate talent and executives for longer periods of time. It's going to be more important to ensure that they're comfortable where they're going to be staying for that long timeframe."
Abused planet
Also on the panel was Ronny Fritsche, who works at Swedish film fund and film commission Film i Väst as an environmental strategist. He painted a picture of a difficult future if the industry does not face up to its ecological responsibilities.
"The pandemic is just a teaser of what will come; much bigger consequences will likely hit us in this decade as a result of an overused and abused planet," said Fritsche. "We definitely have to speed up sustainable development. No one does what [climate activist] Greta Thunberg is begging us to do or what scientists say that we need to do."
Fritsche said that public funding should come with environmental guarantees from the production. He also identified flights and financiers as the key factors in introducing significant change.
"The elephant in the room that many don't want to talk about is flights; this system of how we finance, produce, post-produce, distribute things today that results in a lot of flights in order to meet expectation," he said.
"Without enough demands from financiers, we will be stuck in the discussion about water bottles and recycling. These are important things, but the CO2 emissions from those are nothing compared to transport, energy and food. The industry has to cut down 15% every year if we want to follow up to the Paris Agreement."
"We've learned that the human race is not as secure as we thought; vulnerability is is going to be an issue whether we like it or not," said Iain Smith, producer on post-apocalyptic features Mad Max: Fury Road and Children Of Men, and chair of the British Film Commission. "We have to believe that every journey, however long, begins with the first steps; and that we are we are trying to effect change, which creates a more environmentally-friendly community."
He counselled caution on where to receive advice on Covid-19. "There's a danger which we're seeing a bit in Britain; simply because the politicians have said you can all go out and be one metre apart doesn't mean to say that you should listen to politicians," he said. "You should listen to doctors. We have to be very disciplined and very committed to believing this virus is still there."
Fury Road lessons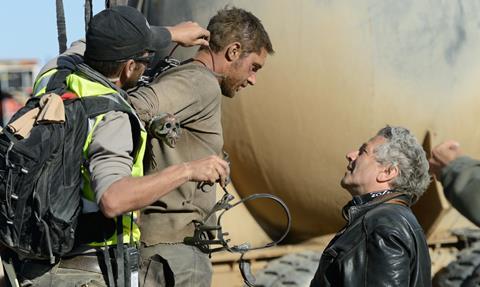 Smith recalled a story from shooting Fury Road in the Namibian desert as an example of the levels of care that needs to be taken.
"One particular place had an ancient and unique lichen, about the size of your small fingernail, that only existed in the Kalahari Desert," he said. "[Director George Miller] said 'I really need to shoot this rampage through the desert', right through where this lichen was; so we employ 150 local Namibian crew, under the supervision of an ecologist, to literally move each one of these little lichens on their bit of sandy rock half-a-mile away and create a whole nursery for them.
"And then when we were done, we very carefully and painstakingly moved everything back literally to the place where they had come from."
Location manager Georgette Turner said cast and crew must consider their responsibilities as individuals in making sets coronavirus-free environments.
"This is not something you can simply throw money at, and there's your solution," she said. "If everybody has just that small amount of training or can do that small amount to social distance; wash their hands; not rely on hand sanitiser because it isn't as effective; and do their own cleaning of their own hotspots, that will really be the strongest defence that we have."
She also advocated for environmentally responsible usage of personal protective equipment (PPE).
"If you just have a free supply of PPE, there is nothing to incentivise people to wear it," she suggested. "Most masks which are sufficient are washable, but you don't actually need to wash them every day.
"The guidelines say that 24 hours is enough for [Covid] particles to be dispersed [away from] clothing. If you had two masks you could rotate each day. That's a huge amount of savings on your overall budget, and also it's teaching people that you can't be wasteful now we obviously have to adapt and use some of these methods."
A study compiled and mentioned by Film i Vast environmental strategist Ronny Fritsche can be found here: https://filmivast.se/2020-2/
Details for the next ScreenDaily Talks will be announced soon.