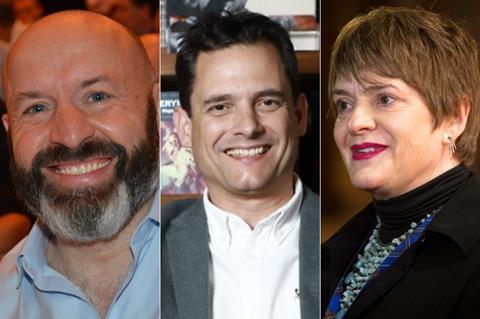 The latest in our ScreenDaily Talks webinar series is taking place on Thursday July 9 at 15:00 BST and will explore the reopening of cinemas in the UK.
The discussion will come less than a week after cinemas began reopening their doors, following more than three months of closures due to the ongoing Covid-19 pandemic, and will address the major challenges faced by exhibitors.
The panel will include Phil Clapp, CEO of the UK Cinema Association, who led the publication of guidelines that were issued to help keep cinema workers and audiences safe as lockdown measures are eased.
Also speaking is Crispin Lilly, CEO of Everyman Media Group, which has begun a phased reopening of its 33 venues nationwide and is set to become the first UK exhibitor to open a new venue post-lockdown.
They will be joined by Allison Gardner, CEO of Glasgow Film, which runs independent cinema Glasgow Film Theatre and Glasgow Film Festival.
Together, they will discuss the latest plans to get cinemas up and running again; what programming will fill schedules, at a time when major releases are being held back; working with the distribution sector; and how they hope to revive confidence in audiences and generate a recovery for the theatrical experience.
The 30-minute discussion will be followed by a 45-minute live Q&A in which the audience will be able to ask questions to the speakers; advance questions can also be sent to orlando.parfitt@screendaily.com. The webinar password will be emailed after registration. The webinar will subsequently be available to watch on Screendaily.com.
The discussion will be moderated by Screen International contributing editor Michael Rosser.