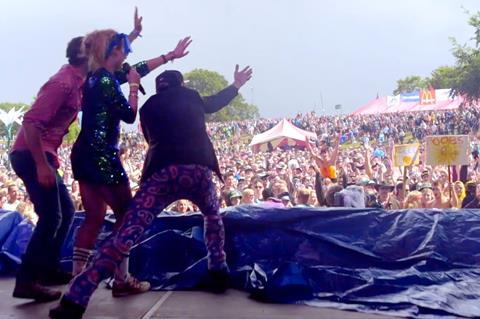 London-based Bohemia Media has acquired UK and US rights for feature documentary That Was A Serious Party, which tells the story of the UK's Secret Garden Party festival.
The film was directed by Dylan Harvey and produced by Haseeb Siddiqui, who previously made the music festival comedy short Big Bang Festival.
The project is a mix of archive footage, user created content, filmed interviews, and cartoons by the veteran cult comic book artist Pete Loveday. The soundtrack fetaures Desmond Dekker, Leftfield, Baxter Dury, The Orb, The Egg, Adam Freeland, Dark Sky, Crystal Fighters and Psychemajik.
The Secret Garden Party festival started off as a small rave in a field with a few hundred people, and ended 15 years later as a 35,000 capacity four-day event.
The film will be shown at this year's Doc'n Roll film festival (Oct 28 - Nov 14) as well as next year's relaunched Secret Garden Party festival. It will also be released on Bohemia Media's new film streaming and community building platform, Bohemia Euphoria, with virtual events planned for July 2022.
The film will also be presented on the platform in the US, with Bohemia also looking to partner with other North American festivals.
Bohemia Media was launched last year by Phil Hunt, managing director of UK-based Bankside Films and Head Gear Films, and UK producer Lucy Fenton, to focus on projects made by under-represented filmmakers.
The project was produced by SSB Productions in association with Fatcontman and Backwoodsman.