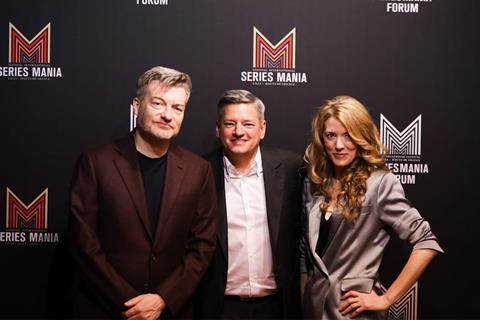 Netflix chief content officer Ted Sarandos grabbed the headlines at TV festival Series Mania's second Transatlantic Dialogues in the northern French city of Lille on Wednesday (March 27) when he declared he was not "a fan" of the streamer's "disruptor" tag.
He was speaking in the opening session of the event aimed at fostering relations between the US and European content industries and also featuring MPAA chief Charles Rivkin, TF1 Group CEO Gilles Pélisson and Amazon Studio's director of European Originals Georgia Brown in the line-up.
Sarandos took to the stage with Black Mirror co-creators Charlie Brooker and Annabel Jones, for a discussion on their collaboration with Netflix, focusing on the genesis of the feature-length, interactive episode Bandersnatch.
His comments on his dislike of Netflix's association with the term "disruption" came out of a series of playful either/or questions delivered by Brooker and Jones, which also included "Frosties or Sugar Puffs?" [answer: Sugar Puffs]; "Technology or entertainment?" [answer: entertainment], and "tradition or disruption?".
Although the tone of the 30-minute onstage chat was light-hearted the intent was serious: to get the message over that Netflix is not the enemy.
It was part of an ongoing campaign to build bridges with the French film and TV industries which remain ambivalent about the streamer some five years after it arrived in the territory.
Aside from its stand-off with French exhibitors over it media-window smashing digital release strategy, which will probably see it skip the Cannes Film Festival again this year, the streamer has also changed the landscape for local broadcasters as it hoovers up high-end drama shows and viewers.
Sarandos's appearance at the Transatlantic Dialogues follows the attendance of Netflix CEO Reed Hastings at the inaugural edition last year. The company was out in force at Series Mania once again this time.
It brought in Uma Thurman to promote Rachel Leah's edgy new teen horror series Chambers, in which she co-stars and takes a producer credit; world premiered sci-fi drama Osmosis, one of 15 French-language series commissioned or acquired by the streamer over the past year, and previewed the second season of The AO.
Sarandos also played host at a relaxed cocktail event at a local five-star boutique hotel, where traditional broadcaster professionals rubbed shoulders with producers who have embraced the platforms and Thurman.
Expanding on his dislike of the "disruptor" label, Sarandos explained: "I think disruption means more like burning things down and seeing what happens, and that's not what we are up to."
"I feel what we're trying to do is preserve and improve on the formats and grow storytelling and to do that you have to be pretty deeply rooted in the traditions and have some amount of reverence for what they are."
Regardless of Sarandos's sentiments around Netflix being associated with disruption, the presentations by private and public French broadcasters and round-tables on the impact of the platforms throughout the day laid bare just how much his company and other digital giants like Amazon had overturned traditional models.
Nicolas de Tavernost, president of private TV group M6, said its evening schedules were unrecognisable from a decade ago with the network moving away from US drama series to focus on local shows to differentiate itself from and compete with the platforms.
He detailed how the night-time schedule now comprised in-house produced, studio-based game and chat shows – known as flux in French – in the early evening, followed by French-language drama in the prime-time slot.
He revealed the network had also started investing in higher-end dramas such as the recent Un Avion Sans Elle, adapted from Michel Bussi's bestseller After The Crash.
Working with smaller resources than the platforms and local networks like TF1 and Canal Plus, the company had also developed a string of successful lower budget short format programmes such as knights' tale comedy Kaamelott and Scènes de Ménages and also set up department specialising in a string of successful magazine programmes around topics like travel and business.
Growing rapprochement
Against this backdrop, however, there were visible signs that once hostile local players were coming around to the streamer as they figured out how to navigate the new digital landscape.
In his opening remarks for the conference, Series Mania president Rudolph Belmer introduced Netflix as a major force in bringing diversity to film and TV.
The former Canal Plus executive's remarks were perhaps not that surprising given he has also been on the Netflix board since the start of 2018.
More meaningful, however, was the endorsement of Pascal Rogard, the no-nonsense head of France's Society of Authors and Composers of Dramatic Works (SACD).
Rogard has negotiated hard to protect its members' residual payments in the face of "buyout" deals - taking all rights in all territories - by the likes of Netflix, winning access to the company's viewing data in the process.
"I have a Netflix subscription… You have to recognise that thanks to Netflix you can discover series from all over the world. I'm a fan of Israeli series and they're there alongside Spanish, Danish and German series, that you can't find on traditional broadcasters," he told the conference when quizzed on Belmer's comment. "The force of Netflix in its diversity."
But perhaps the biggest victory for Netflix has been winning over TF1 Group chief Gilles Pélisson.
The executive said at a keynote speech at MIPTV in 2017 that he had "mixed feelings" about the big streaming platforms likening those emotions to "watching your mother-in-law drive your Ferrari off a cliff".
In Lille on Wednesday, he proudly talked-up his group's newly announced accord with Netflix to collaborate on the big-budget period series La Bazar de la Charité, revolving around the events surrounding a tragic fire during a charity event in Paris in 1897.
Pélisson said the deal had made sense because Netflix had agreed to forego buying out rights for all windows and territories, instead agreeing to TF1 keeping rights to exploit the first local windows in France before it went on the platform with a four-year deal.
"The important thing is that there is a sharing of the value," he said, adding that the deal marked a return to some sort of equilibrium in terms of revenue and rights share.
"The idea that we as producers would hand over all rights for perpetuity just doesn't work for but this deal is an intelligent one and shows Netflix is listening."
Buyout pushback
The issue of the streamers demanding to buy out all rights on series they invest in was also broached in a panel entitled "Towards A New Balance Between Creators and Platforms".
Christine Vestergärd Huttel, head of legal at professional body Danish Film Directors, said these deals represented a major challenge for her members.
"The big players and the streaming services we already have in Denmark and the Nordic region, want to buy out all rights. They come into our territory with a lot of money to make local productions which is of course great for us and very positive… but we don't want to accept these sorts of buyout deals, they are never beneficial to the creators," she said.
Other related topics on the table throughout the day included the implications of the arrival of the new Apple TV+, Warner Brothers and Disney streaming platforms this year as well as the approval of the new EU Copyright Directive earlier in the week.
While professionals from both sides of the Atlantic expressed their optimism about the benefits of the rise of streaming platforms, there was a sense of a growing pushback over rights and value share from the side of the creators and producers.
Howard Rodman, former president of the Writers' Guild of America West (WGAW) perhaps best summed up the current state of play in the industry with a quote from the historic Italian politician Antonio Gramsci.
"In all of these discussions I hear, particularly those around buyouts, I'm reminded of two phrases from a European hero of mine, the cultural theorist and co-founder of the Italian Communist Party Antonio Gramsci. He said two things: 'the old is dying and the new cannot be born; in the interim, a great variety of morbid symptoms appear,' and I think that is where we find ourselves in the ascendency of the new platforms," he said.
"And the other thing he said which is something we should write on post-it notes and put on the bezel of our computer is, 'Pessimism of the intellect, optimism of the will.'," continued Rodman.
"I think if we take these words to heart we will find a balance between creators and platforms which truly serves the creators of the extraordinary wealth of culture we're now able to access but also the extraordinary creation of revenue that currently goes to the platforms."
It's a debate that is gaining traction on both sides of the Atlantic.