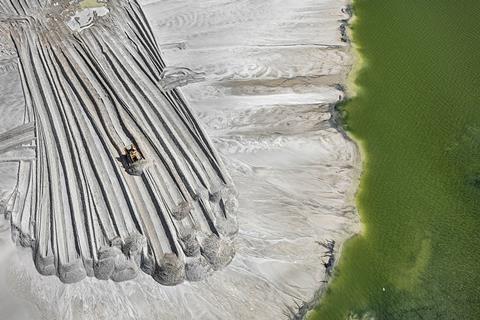 Heading into Cannes next week Seville International has boarded worldwide rights to the documentary Anthropocene.
The film is co-directed by veteran documentarians Jennifer Baichwal (Long Time Running), Nicholas de Pencier (Black Code) and photographer Edward Burtynsky (Watermark).
The third in a series about humanity's impact on Earth, Anthropocene follows the research by an international body of scientists who argue that profound and lasting human changes to the planet means we has entered a new geological epoch: the Anthropocene.
The follow up to Manufactured Landscapes (2006) and Watermark (2013) is currently in post-production. The filmmakers travelled far and wide to document evidence, from concrete seawalls in China that now cover 60% of the mainland coast, to festivals celebrating metals in the closed city of Norilsk in Siberia, the devastated Great Barrier Reef in Australia, and lithium evaporation ponds in the Atacama desert in Chile.
"For years, we have worked together to capture the ever-evolving state of our planet and communicate our species' impact in the most visually compelling and immersive ways," Baichwal, de Pencier and Burtynsky said. "Whether through a VR experience, a documentary film or a photography exhibit, the through-line lies in the storytelling.
"From Manufactured Landscapes to Watermark and now finally with Anthropocene, we look forward to sharing all we have learned from travelling the earth and witnessing the fact that the human signal is everywhere. We're excited to work alongside Anick and the team at Seville to share this project with the world."
"Jennifer, Nicholas and Edward are revolutionary artists and storytellers. They have created a fully immersive experience across many different mediums – film, photography, art – that is not only captivating, but also deeply concerning," Anick Poirier, senior vice-president of sales at Seville International, said.
"Anthropocene is the third in a series of high-quality, impactful documentaries that leave you questioning your own role in our planet's destiny. We are looking forward to celebrating this documentary and sharing it with the international community."
The documentary is part of a multidisciplinary project that includes a museum exhibition premiering simultaneously at the Art Gallery of Ontario and National Gallery of Canada on September 28, before travelling to Manifattura di Arti, Sperimentazione e Tecnologia (MAST), in Bologna in Spring 2019.
Poirier brokered the deal with de Pencier on behalf of the film.