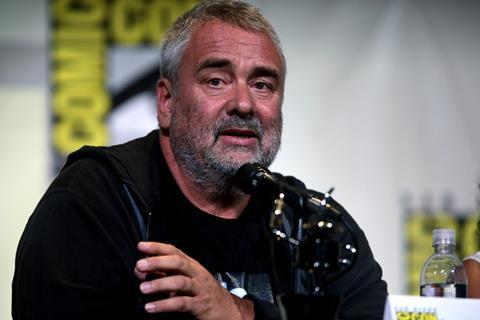 Another five women, including two former EuropaCorp employees, have come forward to accuse French film director and producer Luc Besson of sexual misconduct, bringing the total number of accusers to nine.
The fresh accusations were published Nov 28 in a report by French investigative online news and opinion website Mediapart, which has been conducting a months' long investigation into reports of multiple acts of sexual harassment and abuse by Besson.
Two of the accusers were former female employees at his film company EuropaCorp.
According to Mediapart, one of them, who had been employed as Besson's personal assistant, said she been forced into non-consensual sexual acts with the director three times and also been subjected to other forms of inappropriate behaviour while working for him.
A third accuser was named as former model-turned-actress and director Karine Isambert, who was the only witness to not give evidence anonymously. She recounted how Besson had grabbed her inappropriately and pressed up against her during a meeting in 1995 about a potential role.
The final two accusers were former students at the L'Ecole de La Cité film school set-up by Besson within the Cité du Cinéma studio complex on the outskirts of Paris, which he spearheaded and is also home to EuropaCorp.
According to Mediapart, one of the students had filed a police complaint in July over behaviour she felt to be sexual harassment. According to her account, the director sat her on his knees and fondled her neck on several occasions while she was on a work placement on the set of Valerian And The City Of A Thousand Planets in 2016.
Besson originally created the school in 2012, with the aim of helping youngsters from less favourable backgrounds to break into film. The school's activities were mothballed over the summer due to a lack of funding.
These fresh allegations join the accounts of another four women who have come out to allege sexual misconduct by Besson.
The other accusers include a casting director, who worked with Besson from 2000 to 2005, and Belgian actress Sand Van Roy, who was the first women to file a police complaint against Besson, accusing him of drugging and then raping her during a meeting in a Paris hotel in May.
The mounting sexual misconduct allegations against Besson come amid a difficult time for Besson's once-thriving film empire EuropaCorp, which has seen an exodus of key staff in recent months as it tries to restructure and rein in debts.