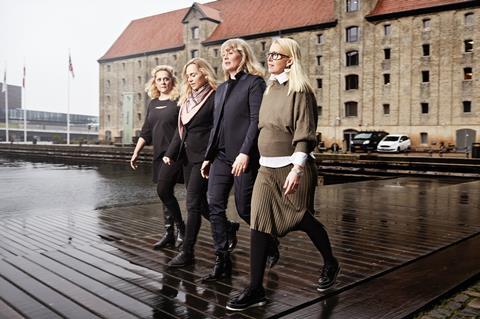 Leading Nordic independent studio SF Studios has expanded its sales deal with Rikke Ennis' REinvent Studios, to also include SF's new Nordic feature films and its huge library of more than 1,000 films.
For the past year, REinvent had handled SF's Nordic TV series.
The exclusive, multi-year deal means that SF will this week shut down its in-house sales department, SF Studios International, which had included a team of four people led by head of international sales Anita Simovic.
"This is a new approach for how we conduct international sales going forward, through this partnership with REinvent," Elsa Berg Bjärtun, EVP Distribution at SF Studios, told Screen. She explained that this deal only covers sales and that SF will continue to do deals directly with its producers.
SF plans to produce or co-produce 20-30 Nordic features and series per year.
"Strategically from an SF Studios perspective we think this will strengthen our position in the market," Bjärtun said. "Because the Nordic and international markets are rapidly changing, we continuously evaluate our business and our business model, and entering partnerships is essential to stay relevant. Together with REinvent we have a stronger alliance and we can make sure that Nordic content is on the top of the international agenda."
For international (including English-language) productions and co-productions from SF, those titles will continue to be allocated to sales outfits on a "case-by-case basis," said SF's chief content officer Jenny Stjernströmer Björk. For example the forthcoming survival thriller Horizon Line is being sold by STX International.
Ennis launched Copenhagen-based REinvent in mid-2018 to concentrate on packaging, financing and sales of Nordic drama series. This deal with SF marks REinvent's first move into feature films.
Ennis added, "Having dealt with features for 20 years and building up Trust (and later TrustNordisk), it feels totally natural to move into feature films again. The talent is the same, and we see the same producers working across film and TV. Why choose to have silos? It's a natural step for us."
SF celebrated its 100th anniversary in 2019, and its large library boasts classics by Ingmar Bergman, Carl Theodor Dreyer, Lasse Hallstrom and Bille August.
Helene Aurø, sales & marketing Director of REinvent, said, "It's a great honour to be working with this library, this is cultural heritage that we have to take very good care of."
That library should be in particular demand in the streaming market because SF doesn't have its own platform. Bjärtun added, "Our approach to being an independent studio is that we don't have our own SVOD or TV service. We are able to offer our content to a wide range of streaming services to find the best fit."
REinvent currently has 11 employees, including six in the sales division led by Aurø.
"We will work together in different ways, not just as a sales agent but also helping with co-financing," said Ennis.
At Goteborg's Nordic Film Market, REinvent has closed market screenings of Christina Rosendahl's The Good Traitor and Ole Christian Madsen's The Day We Died. On the TV side, REinvent is in Goteborg to present SF's Swedish medical drama First Responders, as well Finnish drama The Peacemaker.
The team will also attend Berlin's EFM with a slate including Bille August's The Pact; Charlotte Sieling's Margrete – Queen of the North; Antti Jokinen's Finnish double feature and TV project Omerta; and Erik Poppe's The Emigrants. Two children's films on the slate are Pelle No Tail and Jerry Maya's Detective Agency.
SF's distribution activities in the Nordic region will continue to operate as usual, and that team will continue to also acquire international films for distribution. SF handles the Nordic distribution for titles from Sony, Warner Bros and MGM.