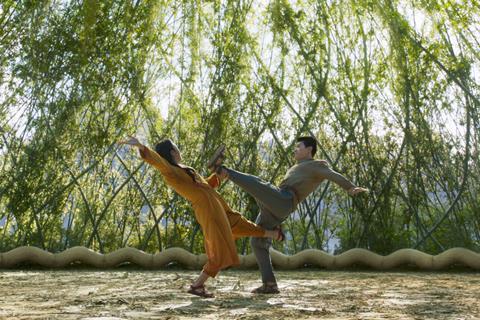 Worldwide box office September 10-12, 2021
| Rank | Film (Distributor) | 3-day (World) | Cume (World) | 3-day (Int'l) | Cume (Int'l) | Territories |
| --- | --- | --- | --- | --- | --- | --- |
| 1 | Shang-Chi (Disney) | $70.9m | $257.6m | $35.2m | $112m | 43 |
| 2 | Free Guy (Disney) | $23.1m | $276.5m | $17.3m | $174.7m | 48 |
| 3 | Malignant (Warner Bros) | $11.9m | $15.1m | $6.3m | $9.5m | 70 |
| 4 | Paw Patrol: The Movie (Paramount) | $7.9m | $92.5m | $5.7m | $57.9m | 50 |
| 5 | Candyman (Universal) | $6.2m | $61.6m | $1.3m | $13.6m | 54 |
'Shang-Chi' climbs to $112m from international arena
UPDATED: Shang-Chi And The Legend Of The Ten Rings stayed atop global box office as a confirmed $69.8m through Disney propelled the running total to a muscular $256.4m after two weekends with more to come this month ahead of a wave of major new challengers in October.
The Marvel Studios release added $35.1m from 42 territories to reach $111.9m and consolidated its position as the number one release in North America where $34.7m elevated the tally to $144.5m. The top international market is the UK on a $16.4m running total after a 39% drop. The tentpole ranks number one there, as it does in nearly 50 countries including Australia, Brazil, France, Germany, South Korea, Italy, Mexico, Russia, and Spain.
After the UK comes South Korea on $10.8m, France on $7.3m, Russia on $6.2m and Japan on $5.5m.
Imax has contributed $21m in global box office receipts, comprising $12.4m from North America and $8.6m from the international arena after adding $2.6m and $2.7m, respectively.
Shang-Chi opens in New Zealand this week. The China debut remains uncertain after comments by Chinese-Canadian star Simu Liu in 2017 in which he described China as a third world country re-ran on Chinese social media. In North America, box office fell by a solid 53% and delivered the best second weekend since the start of the pandemic.
20th Century Studios' Free Guy stands at $276.5m worldwide after a $23m haul in the fifth weekend, making it the highest grossing Hollywood release of the year to date. It added $17.4m for $174.9m internationally of which $76.3m comes from China where it ranks as the third biggest Hollywood release since cinemas reopened in July 2020. The UK has generated $19.7m. A further $5.6m in North America pushed the action film to $101.6m in North America. Jungle Cruise has grossed $201.8m globally after seven sessions – $92m from international and $109.8m in North America.
Warner Bros horror 'Malignant' crosses $15m worldwide
UPDATED: For Warner Bros Pictures International, horror film Malignant from James Wan added $6.1m from 69 markets for an early $9.3m, pushing the global tally to $14.8m. The top market is Spain on $1.4m, followed by Russia, where the film just opened in second place on $922,000. It opened in the UK in an unconfirmed rank on $56,000.
The Suicide Squad grossed $1.2m from 67 markets for a $110m international tally and stands at $165.2m worldwide. The UK is the lead market on $19.3m, followed by Russia on $9.1m and France on $6.4m.
Family release Paw Patrol: The Movie added $5.7m from 49 markets through Paramount Pictures International for $57.9m and opened in Brazil in second place on $835,000 and Panama in second on $345,000. It opens in Australia, Taiwan, Sweden, Finland and Greece this week.
'After We Fell' climbs to $18m for Voltage Pictures
After We Fell from Voltage Pictures has reached $17.9m internationally from 43 markets. The top five markets are Germany on $3.8m, Russia/CIS on $2.5m, Spain on $2.1m, Netherlands on $1.1m, and Poland on $930,000. The Canadian estimate is $420,000.
The property stars Josephine Langford and Hero Fiennes Tiffin and is the third in the YA series based on the successful Anne Todd books after After (2019) and After We Collided (2020).
'Respect' debuts in UK
UPDATED: Aretha Franklin biopic Respect starring Jennifer Hudson debuted in the UK in third place on $585,000 and arrived in ninth place in France on $394,000. These results contributed to an early $3.5m from international markets ($2.4m from Universal markets and $1.2m through MGM). The global tally is $26.8m.
Nia DaCosta's horror Candyman, which made history recently when it became the first film directed by a Black woman to open top in North America, brought in $1.1m from 37 Universal territories for an early $10.9m tally, rising by $2.6m from MGM markets to $13.5m. Combined with $47.9m from North America it has reached $61.5m worldwide. It opened at number one in Taiwan on $46,000 and added $579,000 in its third weekend in the UK where it has reached $5.2m.
Latest updates from Universal Pictures International put F9 on $714.4m worldwide, of which $541.5m comes from international markets and $172.9m from North America. The Boss Baby: Family Business added $1.9m for $108.1m globally and stands at $51m internationally and $57.1m in North America. The family sequel opened in Singapore in second place on $176,000.