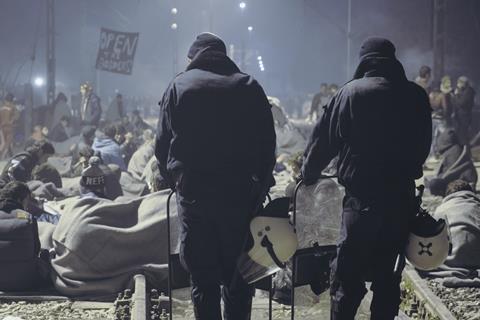 A Spotlight section of screenings followed by extended conversations is the major addition to the programme for this year's Sheffield Doc/Fest (June 6-11), revealed today.
Chinese artist Ai Weiwei and German filmmaker Werner Herzog are among those attending the festival and participating in the section.
Ai Weiwei will present his film The Rest, about Europe's refugee crisis and the disintegrating humanitarian aid system, which premiered at CPH:DOX in March.
Herzog will take part in a discussion with Patrick Holland, controller, BBC Two, following a screening of his film Nomad: In The Footsteps Of Bruce Chatwin, which launched at Tribeca Film Festival last month.
Further titles taking part in the strand include Waad al-Kateab and Edward Watts' UK production For Sama, which will come to Doc/Fest following its Special Screening in Cannes next Thursday (May 15).
The directors will participate in a discussion following the film, hosted by TV presenter Jon Snow.
The full Doc/Fest programme for this year's festival – the 26th edition - includes more than 180 films, and 28 alternate realities projects from over 50 countries worldwide. There are 33 world, 11 international, 10 European and 92 UK premieres.
Films in competition
The festival will host six competitive feature sections, plus one competitive shorts section.
Five titles will compete for the Grand Jury award, including For Sama and Seamus Murphy's A Dog Called Money about British musician PJ Harvey's creative process. Artist Jeremy Deller, producer Charlotte Cook and filmmaker Jenn Nkiru will select the winner for this section.
Among the six films competing for the International award are the world premiere of Kristof Bilsen's MOTHER, about a lady taking care of Europeans with Alzheimer's in Thailand while being separated from her own children. Director-producer Inadelso Cossa, documentarian Samara Chadwick and director of Kosovo's DokuFest Nita Deda are on the jury for this award.
The Tim Hetherington award winner will be chosen from five competing titles by BFI head of cinema and events Gaylene Gould, filmmaker Feras Fayyad and founder of distributor Modern Films Eve Gabereau. This section hosts two world premieres: Raúl O. Paz Pastrana's Mexico-US border migration doc Border South, and Victoria Solano's Sumercé, following an activist, an educator and a political leader fighting the Colombian government over the country's access to fresh water.
The festival will also have eight projects competing for its Alternate Realities Best Digital Experience award, as part of the Alternate Realities programme of AR, VR and MR projects.
The country focus for the 2019 event is on Japan, and features UK premieres from Makino Takashi (Memento Stella), Kazuhiro Soda (The Big House) and Yuki Kawamura (Norie).
Asif Kapadia's Diego Maradona was previously announced as the opening film, with Kapadia giving a Bafta Masterclass the day after the screening to discuss his own career and inspirations. Other previously announced sessions include a discussion with filmmaker Paul Greengrass about his journey from TV documentaries to Hollywood features, and his thoughts on diversifying the class representation in the film industry.
Industry
This year's industry section includes more than 40 talks. Amongst them are 'Cinema and State: developing policy frameworks for feature docs', with panellists including Lisa-Marie Russo, head of the BFI's Doc Society Fund, and producer Elhum Shakerifar of Hakawati Films.
Michael Apted, co-creator and director of the long-running Up TV series, will appear via a filmed interview in 'Up: a Longitudinal Case Study', looking at the observational documentary that has followed 14 subjects through their lives since 1964.
Doc Society will also attend the festival to offer 1-2-1 advice for filmmakers, including presentations and advice about funding.
Talks
Speakers on the Talks programme this year include cyclist Bradley Wiggins, journalist Stacey Dooley and author and Oscar-nominated screenwriter Nick Hornby.
A conversation event called 'Breaking The Class Ceiling' will explore the continued lack of working class representation across the film and TV industry, with panellists including filmmakers Carol Morley and Paul Sng, producer Mia Bays and BBC Three controller Fiona Campbell.
Sheffield Doc/Fest 2019 competition sections
Grand Jury award
A Dog Called Money – dir. Seamus Murphy (UK premiere)
For Sama – Waad al-Kateab, Edward Watts (UK premiere)
Midnight Traveler – Hassan Fazili (UK premiere)
Mike Wallace Is Here – Avi Belkin (European premiere)
Midnight Family – Luke Lorentzen (UK premiere)
Diego Maradona - Asif Kapadia (UK premiere)
International award
MOTHER – Kristof Bilsen (World premiere)
The Amazing Jonathan Documentary – Ben Berman (European premiere)
BLOCK – Victoria Alvares, Quentin Delaroche (International premiere)
The Black Tree – Máximo Ciambella, Damián Coluccio (International premiere)
Earth – Nikolaus Geyrhalter (UK premiere)
Anthropocene: the Human Epoch – Jennifer Baichwal, Nicholas de Pencier, Edward Burtynsky (UK premiere)
Tim Hetherington award
Border South – Raúl O. Paz Pastrana (World premiere)
Sumercé – Victoria Solano (World premiere)
Dark Suns – Julien Elie (UK premiere)
Your Turn – Eliza Capai (UK premiere)
One Child Nation – Nanfu Wang, Jialing Zhang (UK premiere)
Art award
Mother, I Am Suffocating. This Is My Last Film About You – Lemohang Jeremiah Mosese (UK premiere)
No Data Plan – Miko Revereza (UK premiere)
Rushing Green With Horses – Ute Aurand (UK premiere)
The Hottest August – Brett Story (UK premiere)
While We Are Here – Clarissa Campolina, Luiz Pretti (UK premiere)
Fordlandia Malaise – Susana de Sousa Dias (UK premiere
New Talent award
Cool Daddio: The Second Youth of R. Stevie Moore – Imogen Putler, Monika Baran (World premiere)
About Love – Archana Atul Phadke (World premiere)
Talking About Adultery – Bara Jichova Tyson (World premiere)
The Fortress – Andres Torres (International premiere)
La Vida En Común – Ezequiel Yanco (UK premiere)
What We Left Unfinished – Mariam Ghani (UK premiere)
Youth Jury award
Baracoa – Pablo Briones, The Moving Picture Boys (UK premiere)
Jawline – Liza Mandelup (UK premiere)
Los Reyes – Bettina Perut, Ivan Osnovikoff (UK premiere)
Romantic Comedy – Elizabeth Sankey (UK premiere)
Seahorse – Jeanie Finlay (European premiere)
Searching Eva – Pia Hellenthal (UK premiere)