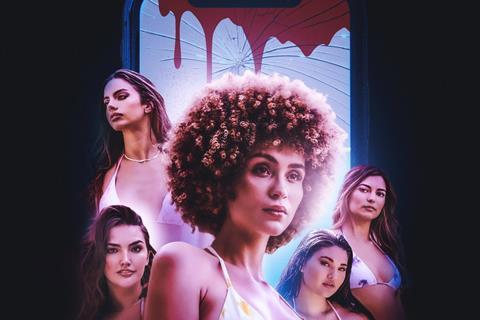 Shout! Studios has acquired North American rights to the thriller Model House from Concourse Media as the latter continues talks with international buyers in Toronto.
Music video veteran Derek Pike, who has worked with the likes of XXXTentacion, Wiz Khalifa, and Aloe Blacc, directed the story of five swimsuit models staying in a secluded house who fight to stay alive when intruders hold them captive and extort money from their social media followers.
Model House stars Cory Anne Roberts (America's Next Top Model), Scout Taylor-Compton (Halloween), Ryan Merriman (Final Destination 3), Chris Zylka (The Amazing Spider-Man), Kyra Santoro (The Orville), and Phillip Andre Botello (The Art Of Self Defense).
Randy Wayne and Talia Bella produced under their Rebellium Films.
Shout! Studios plans a strategic rollout across multiple platforms, starting with a theatrical launch in early spring 2024.
"We're thrilled to be working with Shout! Studios on this exciting and commercial film," said Concourse Media CEO Matthew Shreder, who negotiated the deal on behalf of the filmmakers. "Model House is a non-stop thrill ride and puts an updated spin on the genre that audiences are going to love."
Concourse's notable sales credits include Chief Of Station starring Aaron Eckhart and Olga Kurylenko, PERCY Vs GOLIATH with Christopher Walken, The Little Hours starring Aubrey Plaza, Alison Brie and John C. Reilly, Semper Fi with Jai Courtney, and The Parting Glass starring Anna Paquin, Melissa Leo and Ed Asner.