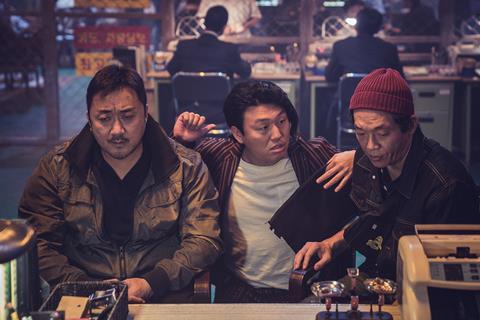 South Korean outfit Showbox has sold action film Unstoppable, starring Don Lee (aka Ma Dong-seok), to a raft of territories led by North America (Well Go USA) and Japan (New Select).
The prolific star - popular from hits such as zombie thriller Train To Busan and Along With The Gods: The Last 49 Days – plays a once legendary gangster who has reformed himself to settle down with his angelic wife Ji-soo, played by Song Ji-hyo. One day he comes home to find his wife has been kidnapped by a human trafficking ring that doesn't know what it has unleashed. The film also features Kim Sung-oh from The Merciless.
Unstoppable has also sold to Australia and New Zealand (JBG Pictures), Taiwan (Moviecloud), Hong Kong (Edko), Singapore, Malaysia, Brunei and Indonesia (mm2), the Philippines (MVP Viva), Cambodia (Westec) and worldwide in-flight (Kairos). Set for local release November 22, the film is director Kim Min-ho's feature debut.