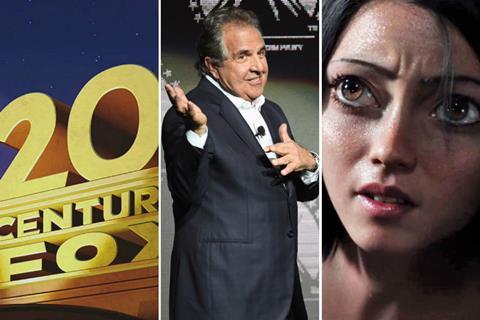 At this week's CineEurope, the annual European exhibition forum held in Barcelona, the conversation ranged from the uncertain future facing Fox to the risky leap into the unknown of original properties. Screen spoke to attendees to gauge some opinions
The uncertain future of Fox
The bidding war raging between Disney and ComCast for 21st Century Fox's entertainment assets dominated much of the chatter at the event, with ComCast today launching a $65bn all-cash bid for the Rupert Murdoch-owned company, eclipsing Disney's offer. The topic of Fox's uncertain future wasn't addressed in the Disney presentation, but was referenced in Fox's when, in a video played before the slate, president of international marketing Kieran Breen pulled out a pair of Mickey Mouse ears from his suitcase. Fox chairman and CEO Stacey Snider also acknowledged the uncertainty around the company's future, adding that it "cannot lose sight of the ultimate goal which is the sustainability and vitality of going to the movies".
Regardless of which company emerges as victor in the race for Fox, it seems likely that at CineEurope 2019 there will be a new setup in place. "Can you imagine Fox not presenting here next year?" as one attendee put it. Another noted the idea of combining Fox's presentation, clocking in at more than two hours in length and also including projects from arthouse wing Fox Searchlight and Fox Animation, with Disney's, which included Pixar, Disney Animation and a section on Marvel, would create a behemoth of a CineEurope presence.
Paramount is back
With Paramount chairman Jim Gianopulos now having been at the helm of the studio for a year, there was a feeling at CineEurope, the troubled major is turning a corner under his stewardship. The success of A Quiet Place, which has grossed more than $320m worldwide, appears to have renewed confidence in the brand.
Attendees were impressed by the style of Paramount's presentation, which included Mark Viane, the company's president of international theatrical distribution, descending to the CineEurope stage via a Mission Impossible-style zipwire. STXinternational head David Kosse, kicking off his company's presentation the following day, joked someone had finally eclipsed his stunt at a past CineEurope, when, as head of Universal's international division, he had arranged for Johnny English star Rowan Atkinson to drive a car through the main venue of the then Amsterdam-based event.
Disney's bulging slate
Disney is once again dominating the global box office this year, having already passed $4bn in 2018. Despite disappointing returns for Solo: A Star Wars Story, the company's CineEurope presentation illustrated the sheer number of blockbuster properties that Disney has coming up in the next two years.
The roster of titles across its divisions would be too long to list, but during the post-presentation drinks, distributors chatted animatedly about Tim Burton's Dumbo and Jon Favreau's The Lion King and speculated Guy Ritchie's Aladdin could be a return to form for the director after the disappointment of King Arthur: Legend Of The Sword.
In line wtih the theory Solo: A Star Wars Story's release so close to The Last Jedi has been a factor in the former's underwhelming box office, some wondered whether the studio may be cramming too many releases into 2018/19 and whether Disney would soon become short on safe options such as its classic animations including The Lion King and Aladdin. However, one attendee pointed out the cross-over potential of Disney's brands was evident in the presentation of Disney Animation's Ralph Breaks the Internet: Wreck-It Ralph 2, which included a scene featuring animated versions of a host of Disney princesses from the ages, from The Little Mermaid to Frozen.
The challenge of original movies
While Disney's slate is largely (though not exclusively) comprised of franchise films, sequels and reboots, there was plenty of buzz in the CineEurope halls for the original properties on display, including Fox's Alita: Battle Angel and Universal's flying cities adventure Mortal Engines.
With an estimated $200m budget, Alita is a huge play for Fox, which compared the film to Avatar from a technology standpoint (the project comes from James Cameron and Jon Landau's production house Lightstorm Entertainment). However several attendees noted, despite a lot of early love for both titles, the studios faced a significant challenge in generating global buzz for the films to which audiences were largely being introduced to from scratch.
Underserved female audiences
There was a consensus in Barcelona female audiences are being underserved by the film industry and that women represent the highest level of untapped movie-going potential. The topic was addressed head-on at a panel discussion during which Clare Binns from UK exhibitor and distributor Picturehouse said the film industry needed to change "its entire culture" if it was to address the ongoing gender imbalance across the business.
Richard Aseme, vice president at Paramount Pictures added the industry needed more balanced representation of both gender and ethnicity across the entire value chain, including agents, directors, writers, distribution and studio execs. "I come to CineEurope every year and I can count the number of black faces on [one] hand," he said.
Aseme added companies were often "driven by fear" and that this was a big issue at a studio level because the stakes were often so high. "Until those decision-makers really reflect society, you're going to have a problem," he said. "You're not going to get balanced stories without the right voices."
Mia Bays, who runs UK-based gender equality campaigning agency Birds' Eye View, called on studios to stop referring to women directors as "risks" and to "be a bit more adventurous". She also added that even when films were being produced specifically for women, because of a lack of female distribution executives, campaigns "were often wrong and don't work".
While the panel largely attempted to reinforce positive messaging around the potential of untapped female audiences, a word of caution was offered by Eric Meyniel, international content director at Belgian cinema chain Kinepolis. "We are living in a world of much consolidation, with much more to come – this could jeopardise diversity. I am concerned about the future, I hope diversity will be saved because it is essential."
Data
One of the ways in which the film industry can address its underserving of female audiences is by more cleverly harnessing data. Exhibitors have often remained guarded with the data they collect, but third-party companies now exist that can process and anonymise data which can then be harnessed by the industry across its entire value chain, including both exhibitors and distributors. Netflix's usage of data to drive its content strategy represents a challenge to the workings of traditional theatrical exhibitors, said one attendee.
An analyst attending the event was keen to highlight that the proper usage of data could be a force for good, benefitting the entire industry: "What we want to do is sell more movie tickets, which ultimately is better for everyone."