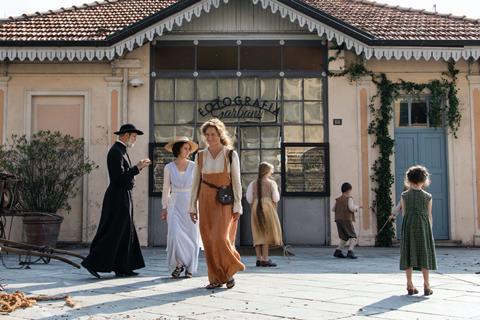 The release of six Swiss films including Locarno premiere Monte Verità is being supported by the country's 'Back to the Cinema' campaign organised by the exhibitors' trade association ProCinema with CHF 500,000 ($544,253) backing from the Federal Office of Culture (BAK).
The aim of the initiative has been to help raise the visibility of up to 10 Swiss films which are each likely to attract more than 10,000 admissions throughout Switzerland as the cinemas reopen this summer.
Swiss distributors were invited to apply for support of up to CHF 50,000 ($54,418) to invest in additional promotional and marketing measures for the releases of Swiss films or an international co-production with a Swiss director between April 19 and December 31 2021.
The scheme has also been open to those films whose theatrical run in 2020 had been curtailed by the introduction of lockdown measures but have the potential to generate an additional 10,000 admissions in 2021.
In addition to the support for the distributors, CHF 500 ($544) is being awarded per cinema centre to those cinema-owners showing the selected films in their first week of release so that they can invest more in local marketing campaigns.
The selection was made by a committee of experts appointed by ProCinema from the areas of exhibition and marketing and was charged with considering projects from the various linguistic regions.
The other films supported by the scheme in its first tranche include Bettina Oberli's My Wonderful Wanda which is being released in French-speaking Switzerland on August, 11 and Tim Fehlbaum's dystopian thriller Tides, which had its world premiere in this year's Berlinale Special sidebar. It will now open in German-speaking Switzerland via Vega Film on August 26.
Two documentaries have received support: Jean-Stéphane Bron's The Brain, which was nominated for two Swiss Film Awards, which will be released by Praesens Film on August 26, and MovieBiz Films' Mario Theus' documentary In The Wild - Hunters And Gatherers on October 21.
Ascot Elite Entertainment has received backing to boost the promotion of Oliver Rihs' Caged Birds which is opening on November 24 after a festival run in Hamburg, Tallinn, Moscow and Torun, among others.
Monte Verità - which like Caged Birds is being handled internationally by The Playmaker Munich - will be released nationwide by DCM Film in Switzerland almost simultaneously in all three main language areas of the country. The French and Italian-speaking regions release is on August 25 and audiences in the German-speaking part are getting the film a day later on August 26.
The initiative is now accepting applications for support to another four local films. The deadline to apply is August 20.