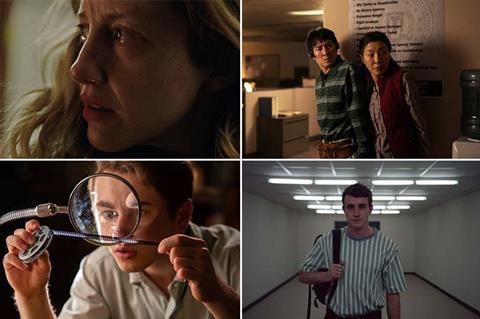 Surprises and omissions
Arguably the biggest surprise this year, and one that brought audible gasps, was the inclusion of Andrea Riseborough in best actress for Michael Morris' To Leslie. A very delayed awards campaign saw Hollywood stars Gwyneth Paltrow, Edward Norton, Kate Winslet and Cate Blanchett – to name a few – come out of the woodwork in support of Riseborough's performance as an alcoholic single mother trying to rebuild her life.
The actress, whose only other major awards season nod is an Independent Spirit nomination, beat out the likes of Danielle Deadwyler for Till and Viola Davis for The Woman King; both had been strong candidates and may have been pipped for that fifth spot by a late-surging Riseborough. Given the largely negative reaction to Andrew Dominik's divisive Marilyn Monroe biopic, Blonde Ana de Armas' inclusion was arguably another surprise in best actress, although she had previously secured Bafta and SAG nominations.
The Academy showed a lot of love for Ruben Ostlund's Triangle Of Sadness which managed to scoop up three nominations in key categories best original screenplay, best director and best picture. The Palme d'Or winner had been on the periphery of awards season, picking up regular nominations for supporting actress Dolly de Leon (who missed out on an Oscar nod), but this is Ostlund's first major nomination for directing.
Likely hobbled by the press surrounding child-porn charges against one of its male co-stars, Marie Kreutzer's Corsage failed to secure its expected nomination for best international feature while Denmark's A House Made Of Splinters also made an unexpected appearance in the best documentary category. The Sundance title beat out Brett Morgen's David Bowie doc Moonage Daydream which had been a frontrunner after securing nominations at the Baftas and several critics' associations.
Women silenced
Thank goodness for the best actress and supporting actress categories because 2023 is not an advert for the introduction of gender-neutral acting awards at the Oscars. Looking at this set of nominations, it's possible to think Oscar voters aren't keen on films directed by women or mainly about women, unless they happen to be playing Marilyn Monroe.
Films by women directors are woefully represented in every category, with the exception of best documentary feature, where Sara Dosa's Fire Of Love and Laura Poitras's All The Beauty And The Bloodshed were both nominated.
No film directed by a woman is nominated for best director for the first time in three years. At the Baftas, Gina Prince-Bythewood secured a nomination for The Woman King at least. Jane Campion won the award last year for The Power Of The Dog, while Chloe Zhao won in 2021 for Nomadland. Pre-pandemic, however, Greta Gerwig was the only female nominee for best director between 2011 and 2019 (in 2017 for Lady Bird) so it looks as if normal service has been (depressingly) resumed.
No films by a woman director are nominated for original screenplay or international film. Women Talking is the only film directed by a woman nominated in both best film and adapted screenplay, while She Said, Maria Schrader's story of the female journalists who helped to topple Harvey Weinstein from his Hollywood throne, was completely shut out.
The Irish are coming!
2023 is one of the strongest Irish showings at the Oscars in many years. Leading the charge is Colm Bairéad's The Quiet Girl, nominated for best international film, the first Irish-language film to be recognised in this category.
In the performance categories, Irish actors dominate, thanks mainly to Martin McDonagh's Searchlight and Film4-backed The Banshees Of Inisherin. Colin Farrell is up for best actor, Brendan Gleeson and Barry Keoghan have been nominated for best supporting actor and Kerry Condon is a welcome addition to the best supporting actress group.
Paul Mescal, a former Screen Star of Tomorrow along with Keoghan, is also nominated for best actor for his role as the young Scottish father in UK film Aftersun.
In further good news for the island of Ireland, Northern Irish short film The Irish Goodbye is nominated for best short film, backed by the Northern Ireland Screen Fund.
Studios vs streamers
Disney is the leading distributor in the nominations this year with 21 in total across its Disney and Searchlight outfits. Nine alone came from Searchlight's The Banshees Of Inisherin which also picked up a further nod for Empire Of Light in cinematography. Meanwhile Disney scored four for Avatar: The Way Of Water and five for Black Panther: Wakanda Forever. It was nominated once in animated feature for Turning Red – an unusually quiet turn out for the company in this category.
Next in line is independent distributor A24 which picked up 17 nominations, leading with Everything Everywhere All At Once's 11. The Whale picked up a further three while Aftersun, Close and Marcel The Shell With Shoes On took the last three nominations for the distributor.
This was closely followed by streaming giant Netflix on 16. All Quiet On The Western Front secured nine nominations for the streamer and in animated feature, Netflix has both Guillermo del Toro's Pinocchio and The Sea Beast. Further nominations came from two short documentaries, Bardo, Blonde and Glass Onion: A Knives Out Mystery.
Then it was Universal/Focus Features (15), Warner Bros (12) and Paramount (9).
Despite taking home three key awards at last year's Oscars, including best picture, Apple TV+ picked up just one nomination this year – best supporting actor for Brian Tyree Henry in Causeway. Similarly, Amazon was only nominated once, in best international feature, for Argentina, 1985.
Good year for actors of Asian descent
This year saw four actors of Asian descent nominated in the acting categories, a record for the Oscars. Leading the way was Malaysia's Michelle Yeoh, who became the first Asian-identifying woman to earn a nomination for best actress. Yeoh's Everything Everywhere co-stars Ke Huy Quan and Stephanie Hsu were also nominated for supporting actor and actress respectively, with Hsu joined by Hong Chau for The Whale in the category.
Two black actors picked up nominations: Brian Tyree Henry for Causeway and Angela Bassett for Black Panther: Wakanda Forever.
This means seven non-white actors were selected in the four acting categories in total (although best actor was all-white), more than in 2022 when four actors of colour were acknowledged. 2021 is still the most racially diverse set of performance nominations in the history of the awards with nine non-white actors selected.
Oscar and Bafta overlap – and also don't
If Bafta is seeking to define its film awards as an important stepping stone to the US Academy Awards, but also a kudos event with its own individual identity, this year's Oscar nominations conveniently play to that dual narrative.
The top Bafta-nominated film All Quiet On The Western Front received five fewer nods at Oscar (in nine rather than 14 categories), but that's still a remarkably strong showing for a film not in the English language.
Instead, it was Everything Everywhere All At Once that leads the Oscar pack – with 11 nominations. The film also did well at Bafta, tying with The Banshees Of Inisherin in equal second place for most nominations.
One of the most pointed contrasts between the two sets of nominations is the fate of The Fabelmans, scoring a single Bafta nod but landing in seven categories – including best picture, director and leading actress (for Michelle Williams) – at Oscar.
In leading actor, the names match, with Austin Butler, Colin Farrell, Brendan Fraser, Paul Mescal and Bill Nighy nominated at both awards. (Bafta nominates six in each performance category, and also included Daryl McCormack for Good Luck To You, Leo Grande here.)
Overall, performance showed a big overlap, with 15 of the 20 Oscar nominees across the four acting categories likewise receiving a Bafta nomination. It's a far cry from 2022, when none of the leading actress nominees were the same at Bafta and Oscar.
In screenplay, it's writers who nominate, and you might expect a big concurrence. Oddly, the nominees match in all five cases for original screenplay, but overlap in only two cases (Living and All Quiet On The Western Front) in the case of adapted. Sarah Polley's Women Talking, which was a total wipeout at Bafta, was a nominee here.
Documentary showed a big overlap, with All That Breathes, All The Beauty And The Bloodshed, Fire Of Love and Navalny nominated at Oscar and Bafta. Considering documentary specialists nominate this category at Oscar, whereas Bafta has a large opt-in chapter for documentary, drawn from many disciplines, the concurrence may be considered surprising. (A jury also plays a role in determining the doc Bafta nominations.)
In animated feature, all four of the Bafta nominees likewise earned an Oscar nomination – and Ampas added a fifth, with The Sea Beast also included.
In the differently named categories covering foreign-language films, All Quiet On The Western Front, The Quiet Girl and Argentina, 1985 scored at both awards. Oscar voters cold-shouldered Bafta nominees Corsage and Decision To Leave, and instead welcomed in Close and EO.