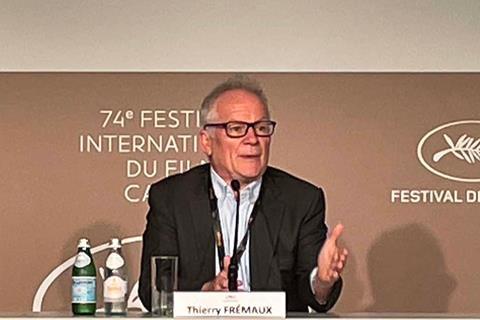 "It's a collective sigh of relief," said Cannes Film Festival delegate general Thierry Frémaux as he met with the media on Monday on the eve of the opening of the festival's first edition in two years, after it was cancelled in 2020 due to the Covid-19 pandemic.
"We're not organising this festival for ourselves but rather for cinema, the artists, professionals, press, and the city," he said. "It's the first event to take place in the Palais des Festivals since March 2020. It's a joyful, reasoned sigh of relief."
Frémaux touched on a variety of topics from Netflix's absence to the diverse, global female-majority jury and whether he had been thinking about a successor.
Numbers and attendance
On the eve of the festival, there were some 28,000 accredited guests against around 40,000 in 2019 with the number of media professionals down by around 35% on usual numbers, according to figures revealed by Frémaux.
"We're touched by the efforts everyone has made to get to Cannes," he said, adding that shooting commitments rather than the pandemic had kept some filmmakers and talent away.
"Globalising" the jury
Spike Lee's historic appointment as the first Black president of the competition jury as well as the female-majority jury marked an important step in the festival's efforts to globalise and "planetise" the jury, said Frémaux.
He emphasised that it was the first time a jury with a male president had a majority of female jurors. The first and last time there was a female majority jury was in 2018 when Cate Blanchett was jury president.
"When Olivia de Havilland became the first female jury president in 1965, her entire jury was male," he added, in an example of how times were changing.
He noted Brazilian director Kleber Mendonça Filho's presence on the jury was in part a tribute to the director's political engagement.
"We saw lots of beautiful Brazilian films although none, unfortunately, made it into Official Selection. Kleber has been in competition twice. It was a way to honour him and Brazil, a great cinema country that has been hit hard by the pandemic."
Number of films
Frémaux batted back suggestions this year's Official Selection is far larger than previous years.
"It's an exceptional year with nearly two years' worth of films. A lot of films decided to wait until 2021 and then there were films that were not ready. My colleagues in Venice, San Sebastian and Venice say the same thing," he said.
"We didn't see the films for a year and a half. We decided to make the most of this moment in time. There is not an amazingly high number of films. In 2019, there were 58 films and this year we have 71 films. It's not than many more."
Screen counts 86 features in Official Selection in total, across the Competition (24), Un Certain Regard (20), Cinema for the Climate (7), Cannes Premiere (13), Midnight Screenings (3) Out Of Competition (7), Special Screenings (10) and Le Cinema de la Plage (2).
Succession
Quizzed on whether he had given any thought to when and how he might manage his departure as delegate general, Frémaux gave a roundabout answer. The question was prompted by Cannes Film Festival president Pierre Lescure's recent pledge to ensure a woman succeeds him when he steps down in 2023.
"In France, we don't have contracts, we're salaried employees. It's exactly 20 years ago that Gilles Jacob called me to join him and after a few years of working by his side, I became delegate general in 2007. I wasn't planning to stay that long.
"Rather than my succession, I think we need to think more about the future of the festival," he said. "I don't really want to evoke my situation right now, but I did turn 60 recently, which got me thinking about what happens next."
Covid tests pour tous
Frémaux said hygiene protocols and testing rules would be the same for stars as all other attendees. "Some film teams are staying together in special locations with their own doctors who will handle the tests but they will be obliged to show a result on entering the Palais."
Festival guests will be obliged to wear masks on the red carpet although stars will be allowed to take them off for photocalls. Frémaux and Lescure will not wear masks at the top of the steps as they will remain at a distance from the guests.
In a piece of good news for accredited attendees arriving from territories obliging them to take a Covid-19 test every 48 hours, Frémaux said the festival would take over from the French government the cost of tests. This decision follows a government announcement on Sunday night that it was ending free testing for non-French nationals.
"We felt it was a bit much for people to be paying €50 every two days so the festival will cover this, we hope with the support of the French ministry of culture,' said Frémaux.
The Netflix question… again
Frémaux was diplomatic but firm on repeated questions about the absence of Netflix due to its ongoing refusal to either show its films Out of Competition or allow them to be released theatrically in France.
"We have a rule that films in Competition must come out in French cinemas. It's not a very difficult rule but Netflix does not want to conform to this rule and doesn't want to screen its films out of competition. We talk a lot - we're friends – and I hope to convince them one day."
Asked about whether he believed Netflix's continued absence could dent Cannes' position as the most prestigious film festival in the world, Frémaux replied: "Give me a name of a young filmmaker discovered by Netflix with a film on its platform - not a TV series. Our mission is to discover and put new names on the map. I am not sure Netflix or whoever can skip the Cannes Film Festival."