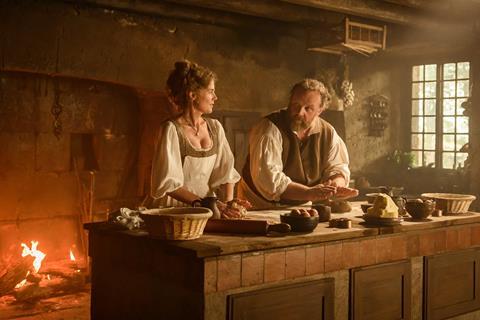 French film company SND has unveiled a first round of deals on culinary period drama Délicieux by Eric Besnard ahead of its market premiere as the opening film of Unifrance's Rendez-vous with French Cinema this evening.
The annual meeting, which usually takes place in Paris, unfolds online from January 13-15 this year due to the ongoing Covid-19 pandemic and will kick off this evening with an online event beginning 7pm local time.
SND, which launched sales on Délicieux at the EFM last year, has sold the title to Germany (Neue Visionen), Austria (Filmladen), Spain (A Contracorriente), Italy (Bim), Portugal (Lusomundo), ex-Yugoslavia (Karantanika), Bulgaria (Beta Film), Canada (Mongrel), Indonesia (Falcon Pictures), Singapore (Shaw Renters), Israel (Lev Cinema), Australia and New Zealand (Palace Films).
SND's distribution arm is planning a March release in France for the film which shot at the end of 2019.
Délicieux stars Grégory Gadebois as a talented chef who sets up France's very first restaurant after he is dismissed by an aristocratic employer on the eve of the French Revolution. Isabelle Carré also features in the cast. It is the seventh feature from Besnard whose previous recent credits include romantic comedy The Sense Of Wonder and comedy-drama L'Esprit De Famille.
Aside Délicieux, the company will also market premiere Émile Thérond's documentary Teach Me If You Can, following the work of teachers in some of the remotest and poorest corners of the world including Bangladesh, Burkina Faso and Siberia.
SND will also launch two new projects – Liza Azuelos's The Book Of Wonders and Olivier Treiner's Julia - at a special Rendez-vous event on Wednesday (January 13) at which sale agents will present their new French slates for 2021 in online video presentations.
Based on the best-selling book by Julien Sandrel, The Book Of Wonders stars Alexandra Lamy stars as a workaholic mother who attempts to re-set her relationship with her 10-year-old son after an accident puts him in a coma, and she discovers his bucket list of 10 things he wanted to do before the end of the world.
Other cast members include Muriel Robin and Olga Kurylenko. It is the eighth feature for Azuelos whose credits include biopic Dalida.
It is the latest production from Eric Jehelmann and Philippe Rousselet at Paris-based Jerico Films, whose previous credits include La Famille Bélier and Two Is A Family. The film is due to shoot for delivery in the fourth quarter of 2021.
Trenier's 2052-set comedy-drama Julia explores questions of fate and self-determination through the tale of an 80-year-old woman looking back on the twists and turns of her fulfilled life and questioning what drove the direction it took.
Its high-profile cast features Lou de Laâge, Gadebois, Carré and Denis Podalydès. Produced by WY Productions, the company behind YSL, and it is currently shooting.