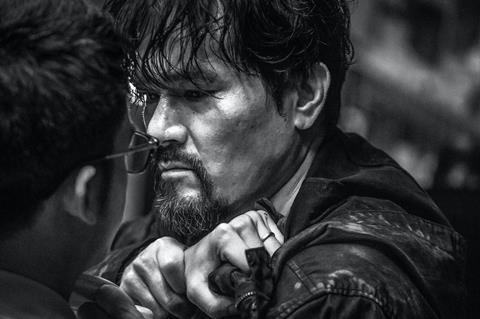 Soi Cheang's crime thriller Limbo leads the pack for the 40th Hong Kong Film Awards (HKFA) with 14 nominations, as the event prepares to return as an in-person ceremony following last year's cancellation as a result of the pandemic.
The black and white crime noir, which premiered in Berlinale Special in 2021, secured nods including best film, best director and for actors Lam Ka Tung, Cya Liu and Fish Liew. The thriller centres on a veteran detective and rookie copy who team up to catch a serial killer.
Scroll down for full list of nominations
It was closely followed by Anita, a biopic of Canto-pop legend Anita Mui directed by Longman Leung, which secured 12 nominations. The feature premiered as the closing film of the 2021 Busan International Film Festival.
Jun Li's social drama Drifting picked up 11 nominations; sports biopic Zero To Hero, directed by Jimmy Wan, received nine; and Raging Fire, the final film directed by the late Benny Chan, was nominated for eight.
Keep Rolling, a tribute to renowned Hong Kong director Ann Hui, was the only documentary across all categories to receive nominations. Art director-turned-documentarian Man Lim Chung picked up nominations for the film in both the best new director and best director categories.
Man will compete for best director against the late Chan for Raging Fire, Leung for Anita, Cheang for Limbo and Peter Chan for sports biopic Leap.
Lam earned two best actor nominations, one for his role as a veteran detective in Limbo and another for Chan Kin Long's debut feature Hand Rolled Cigarette, while Liew was also nominated twice in the best supporting actress category for both Limbo and Anita.
Several new faces are among the nominees. All the newcomer nominees land a second nomination in another category for the same role: Louise Wong (Anita) also nominated for best actress, Leung Chung Hang (Zero To Hero) also for best actor, Chung Suet Ying (Time) also for best supporting actress, Fung Ho Yeung (Zero To Hero) and Will Or, both also for best supporting actor.
The nominations were unveiled today by two-time HKFA best actor Nick Cheung and Kearen Pang, winner of best new director in 2018, during an in-person press conference staged at the Kowloon Bay International and Exhibition Centre in Hong Kong.
The 40th HKFA will honour two years of Hong Kong productions from 2020-2021 and is set to take place on April 17 at the Hong Kong Cultural Centre. The previous edition was live-streamed in May 2020 as a closed event with just the HKFA chairman Derek Yee announcing the winners.
40th Hong Kong Film Awards nominations
Best Film
Raging Fire
Anita
Limbo
Zero To Hero
Drifting
Best Director
Man Lim Chung, Keep Rolling
Benny Chan, Raging Fire
Longman Leung, Anita
Soi Cheang, Limbo
Peter Ho-Sun Chan, Leap
Best Screenplay
Ashley Cheung Yin Kei, Ho Siu Hong, Li Ho Tin, Ling Wai Chun, One Second Champion
Ho Ching Yi, Lam Ka Tung, Time
Au Kin Yee, Shum Kwan Sin, Limbo
Jimmy Wan, David Lo, Zero To Hero
Jun Li, Drifting
Best Actor
Lam Ka Tung, Hand Rolled Cigarette
Patrick Tse, Time
Lam Ka Tung, Limbo
Leung Chung Hang, Zero To Hero
Francis Ng, Drifting
Best Actress
Chrissie Chau, Madalena
Louise Wong, Anita
Cya Liu, Limbo
Sandra Ng, Zero To Hero
Gong Li, Leap
Best Supporting Actor
Louis Koo, Anita
Lam Suet, Time
Fung Ho Yeung, Zero To Hero
Will Or, Drifting
Tse Kwan Ho, Drifting
Best Supporting Actress
Paw Hee Ching, Caught In Time
Fish Liew, Anita
Chung Suet Ying, Time
Fish Liew, Limbo
Bai Lang, Leap
Loletta Lee, Drifting
Best New Performer
Louise Wong, Anita
Chung Suet Ying, Time
Leung Chung Hang, Zero To Hero
Fung Ho Yeung, Zero To Hero
Will Or, Drifting
Best Cinematography
Rick Lau, Hand Rolled Cigarette
Fung Yuen Man, Raging Fire
Anthony Pun, Anita
Christopher Doyle, Kubbie Tsoi, Love After Love
Cheng Siu Keung, Limbo
Best Editing
William Chang Suk Ping, Alan Lo, Hand Rolled Cigarette
Chung Wai Chiu, Shock Wave 2
Mak Chi Sin, Li Dianshi, He Yongyi, The Battle at Lake Changjin
Curran Pang, Raging Fire
David Richardson, Limbo
Best Art Direction
Cheung Siu Hong, Yman Yiu, Hand Rolled Cigarette
Pater Wong, Anita
Zhao Hai, Love After Love
Kenneth Mak, Renee Wong, Limbo
Albert Poon Yick Sum, Drifting
Best Costume & Makeup Design
Cheung Siu Hong, Chan Chi Ching Dos Santos, Hand Rolled Cigarette
Bobo Ng Bo Ling, Dynasty Warriors
Dora Ng, Karen Yip, Anita
Emi Wada, Love After Love
Bruce Yu, Karen Yip, Limbo
Best Action Choreography
Leung Pok Yan, One Second Champion
Tang Sui Wa, Hand Rolled Cigarette
Li Chung Chi, Shock Wave 2
Donnie Yen, Ku Huen Chiu, Tanigaki Kenji, Li Chung Chi, Raging Fire
Jack Wong Wai Leung, Limbo
Best Original Film Score
Chiu Tsang Hei, Andy Cheung, Anita
Ryuichi Sakamoto, Love After Love
Kenji Kawai, Limbo
Day Tai, Zero To Hero
Wong Hin Yan, Drifting
Best Original Film Song
One Second Champion
Welcome To This City, The Way We Keep Dancing
Dead Lock, Raging Fire
Zero To Hero
Drifting
Best Sound Design
Nip Kei Wing, Ip Siu Kei, Shock Wave 2
Wang Danrong, Steve Burgess, Yin Jie, The Battle at Lake Changjin
Lee Yiu Keung George, Yiu Chun Hin, Kaikangwol Rungsakorn, Stan Yau, Raging Fire
Tu Duu-Chih, Wu Shu-Yao, Anita
Nopawat Likitwong, Limbo
Best Visual Effects
Yee Kwok Leung, Garrett K Lam, Chiu Tak Piu, Loki Ho, Shock Wave 2
Tsui Hark, Dennis Yeung, Wang Lei, The Battle at Lake Changjin
Leung Wai Man, Raymond Lim Hung Fung, Alex Diu King Wai, Hung Man Shi, Raging Fire
Yee Kwok Leung, Garrett K Lam, Raymond Leung, Candy Hung, Anita
Garrett K Lam, Ho Man Lok, Diu King Wai, Limbo
Best New Director
Chiu Sin Hang, One Second Champion
Kin Long Chan, Hand Rolled Cigarette
Man Lim Chung, Keep Rolling
Lau Ho Leung, Caught In Time
Jun Li, Drifting
Best Asian Chinese-Language Film
Till We Meet Again
American Girl
My Missing Valentine