Psychological horror set during the Second World War wraps shoot.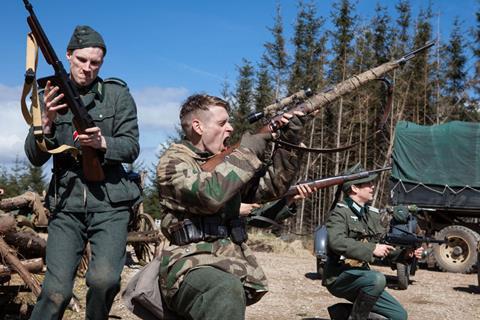 Blackdog Productions and Viking Film and Television have wrapped principal photography on psychological horror Soldiers of the Damned, which was shot over five weeks on location in the Lake District, UK.
For full production details visit
The feature, set on the Eastern front in 1944, follows Major Kurt Fleischer (Gil Darnell), a war-weary commander of an elite troop of German soldiers, after he is ordered to escort a female scientist (Miriam Cooke) into a mysterious forest behind enemy lines to retrieve an ancient relic.
As his men begin to disappear in strange circumstances Fleischer realises that the scientist is part of the Nazis' occult department and there is something in the forest that is far more deadly than the Russians.
The film also stars Lucas Hansen (The Human Centipede 2) and Nicky Bell. It marks the debut feature for TV, commercial and music video director Mark Nuttall.
Nigel Horne's production company, Viking Film, co-produced with Blackdog's Stephen Rigg from Horne's original screenplay.
Horne told ScreenDaily that the film will be finished by September in time for AFM. He added there was already "great interest" from sales agents and distributors.