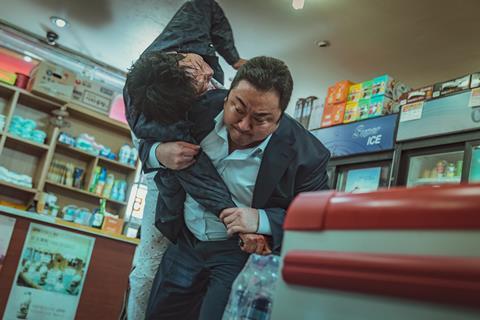 Box office takings in South Korea have topped the KRW1tn ($762m) mark for the first time since the beginning of the Covid-19 pandemic.
From January 1 to November 30 this year, total box office revenues reached $769m (KRW1.01tn) with more than 98.6 million admissions, according to a Korean Film Council report released today (December 15).
This is still only 58% of total box office for the same period in 2019. But for comparison during the pandemic, last year's entire box office from January 1 to December 31 - which had started a slow recovery to go up 5.7% year-on-year - only recorded $485.3m (KRW640bn) with a total of 60.52 million admissions.
From January to November 2022, local films saw a 254.7% box office revenue rise year-on-year and accounted for 57.6% of total box office.
This year's theatrical rankings were led by Don Lee's action franchise film The Roundup, which opened in May and recorded a massive 12.69 million admissions.
It was followed by Top Gun: Maverick, which opened in June and recorded 8.17 million admissions.
Two local franchise films followed: historical naval action film Hansan: Rising Dragon, starring Park Hae-il (Decision To Leave), which opened in July; and North-South Korean spy-and-cop action film Confidential Assignment 2: International, starring Hyun Bin and Yoo Hae-jin, which opened in September. They recorded 7.26 million admissions and 6.98 million admissions, respectively.
Disney's Doctor Strange In The Multiverse Of Madness opened in May and took 5.88 million admissions while Squid Game star Lee Jung-jae's directorial debut Hunt, the espionage thriller that premiered at Cannes, opened in August and took 4.35 million admissions.