Kim Jee-woon's period thriller stars Song Kang-ho and Gong Yoo.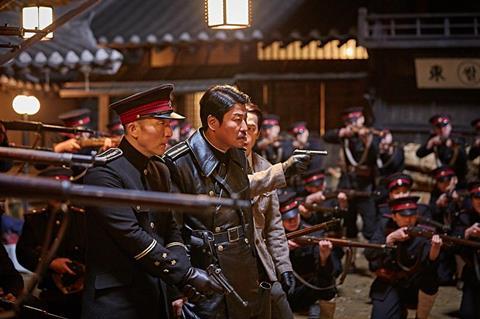 Warner Bros Korea's first Korean-language production, Kim Jee-woon's The Age Of Shadows, has been chosen as South Korea's submission to the 89th Academy Awards best foreign-language film category.
The news was announced today by the Korean Film Council (KOFIC).
Set in Seoul and Shanghai during the Japanese occupation, the film stars Song Kang-ho (Snowpiercer) with Gong Yoo, who is currently starring in record-breaking local hit Train To Busan, which premiered in Cannes earlier this year.
Song is also one of the Academy of Motion Picture Arts and Sciences (AMPAS)'s new members as of last year.
He plays a former member of the Korean resistance who has joined the Japanese colonial forces as a police officer, tasked to infiltrate the notorious resistance group called Uiyeoldan.
Gong plays a resistance fighter trying to bring in explosives from Shanghai while Japanese agents close in on them. He and his group's leader, played by Lee Byung-hun (RED 2), try to "turn" Song's character to aid the resistance again.
The Age Of Shadows is due to make its world premiere at the Venice Film Festival Out of Competition on the night of September 3. It will also premiere in the upcoming Toronto International Film Festival's Special Presentations section later next month.
KOFIC's selection committee stated they went through "intense" discussions to decide on The Age Of Shadows as having the most potential to make the Oscars shortlist.
"The Age Of Shadows got high scores not only for its aesthetic accomplishments, but also for the level of recognition of its director and actors and for its overseas distribution and marketing capabilities," KOFIC said.
Kim Jee-woon is known for critically-acclaimed films such as Cannes titles A Bittersweet Life (2005) and The Good, The Bad, The Weird (2008). He made his Hollywood debut in 2013 with the Arnold Schwarzenegger-starrer The Last Stand.