Strong showings from Crimson Peak and Suffragette no match for Bond.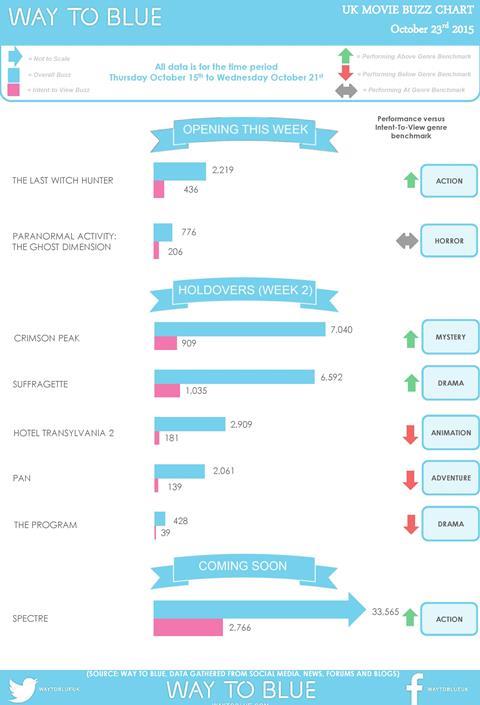 Box office expectations are high for new James Bond film Spectre, released in the UK this weekend, and the latest buzz chart reveals the anticipation is well-founded.
The film, directed by Sam Mendes, generated nearly 33,600 comments across social media, news, forums and blogs, according to analysis firm Way To Blue.
Of those, 8.2% expressed intent to view, meaning they would look to convert comments into cinema tickets.
It also tops the 31,722 mentions that Fifty Shades of Grey generated in February and the 23,580 mentions accumulated by Avengers: Age of Ultron ahead of their release.
Back to this week, gothic horror Crimson Peak ranked second with more than 7,000 mentions (12.9% ItV) while period political drama Suffragette polled nearly 6,600 (15.7% ItV) – both during their first week of release.
Also currently on release, animation sequel Hotel Transylvania 2 drew more than 2,900 mentions while fairytale adventure Pan edged toward 2,100.
Of the films opening this weekend, Vin Diesel's The Last Witch Hunter topped 2,200 mentions (19.6% ItV).