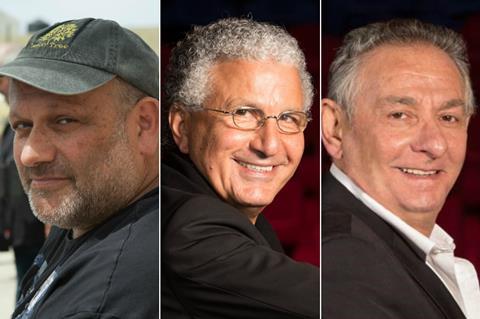 Eran Riklis, the director whose credits include the upcoming Spider In The Web with Monica Bellucci and Ben Kingsley, has joined forces with Moshe Edery, founder of Israeli company United King Films, and producer Michael Sharfstein of Topia Communications to launch venture UTR Film Projects.
The outfit will develop and produce feature films and series and is officially being launched here in Cannes, where Rikilis, Edery and Sharfstein are taking meetings about their initial slate. The trio previously collaborated on Spider In The Web and are formalising their partnership after the success of that film – it recently had its North American rights acquired by Vertical Entertainment from Film Constellation.
UTR's debut slate features Reading Lolita In Tehran, based on the acclaimed novel by Iranian author Azar Nafisi. Riklis will direct from a screenplay written by Marjorie David; the producers are hoping to shoot in 2020. The New York Times bestseller list novel was first published in 2003 and has since been translated into 32 languages. It is a memoir of the author's experiences of returning to Iran during the revolution of the last 1970s.
"This story offers a rare, poetic look at women's lives in revolutionary Iran. It is about the power of silent voices, the power of female solidarity and about the hope we all need in a world that is becoming more and more dangerous for free thought and physical freedom," said Riklis on the project.
UTR is also lining up Absolution, based on a novel by R.F. Georgy. Scripted by Leslie Allen and Riklis, the film is a political fable set in New York and Israel.
Also on the slate is a third novel adaptation, a feature based on Israeli writer Eli Amir's Yasmin. Yaelle Kayam has adapted the book, which tells the story of an impossible love between an Israeli and a Palestinian following the Six Day War in 1967.
UTR is also in the early stages of putting together a slate of TV projects.
"In the 1990s and early 2000s I directed hours of TV drama and series for Israeli television and now of course is the time to go back to the small screen, which has become so rich and fascinating," said Riklis.
The director, whose credits also include The Syrian Bride (2004), Lemon Tree (2008), Zaytoun (2012) and The Human Resources Manager (2010), explained that the venture is being launched to solve a problem he has faced throughout this career.
"Our biggest problem is development: optioning books or getting a writer to sit down and make a script, or making a bible for a series, that's where your average producer or director normally gets stuck. I don't always want to wait for a fund to make a decision about giving me development money, I want to be more self-sufficient," the director said. "I don't have deep enough pockets so it made sense to join forces [with United King and Topia]."
"We're trying to go beyond arthouse but maintain a quality level, that is important. We want to make movies that are relevant to the world, it's a duty to for filmmakers to challenge issues but also reach audiences," he added.