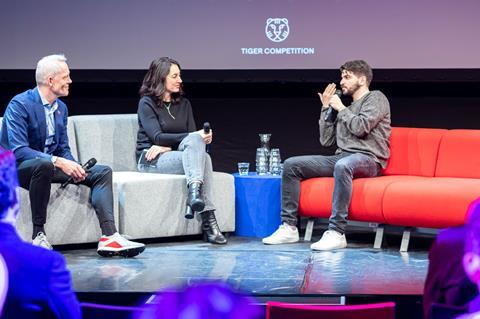 "They can cut the flowers, but spring will always come," was the defiant response to increasing nationalism and reduced state funding, from a press conference with five directors participating in the Tiger Competition at International Film Festival Rotterdam (IFFR).
The directors were discussing a speech by then Brazilian culture minister Roberto Alvim last week, that borrowed heavily from one made in 1933 by Nazi minister of propaganda Joseph Goebbels, in which Alvim said Brazilian art must be "heroic and national… it will be deeply committed to the urgent aspirations of our people, or it will be nothing."
Alvim made his speech on Thursday, January 16; he was fired the following day by far-right president Jair Bolsonaro.
"When we started shooting Desterro, we didn't know that Brazil would get so quickly to where it is now," said Brazilian director Maria Clara Escobar, whose Tiger Competition film follows the split of a young Brazilian couple when one of them disappears. "But I believe it has certain knowledge that already something was going on. An apathy from [the middle] class, who were deciding not to see or discuss the small things that they already see that are not OK."
She described the attitude of the Brazilian middle class towards the rise of the far right as "Let's keep pretending and together doing this pact that nothing is happening, so nothing will happen. Obviously it went badly for Brazil."
A social divide was also identified by Luis López Carrasco, director of Spanish film El Año Del Descubrimiento which revives 1992, a key year in Spain's history, through stories told in a Cartagena bar.
"Many of the people who appear in the film belonged to a corner of Spain which has been abandoned by the capital, where nothing is happening," said Carrasco. "Some of these places are really depressed. We were shocked because most of these people belonged to families who were fighting against the dictatorship [of General Franco from 1939 to 1975]; nowadays they are starting to have racist, far-right discourse."
"At the same time," he continued, "the film is so close to the characters that you can understand this mixture of confusion and anger. I don't think that the main corporations are going to defend or protect democracy any more."
Director Jorge Thielen Armand talked about the funding situation in his native Venezuela. "I come from a place where films no longer get supported, where many of them are censored. Comments like the one Alvim made are extremely dangerous."
"However, 'they can cut the flowers, but spring will always come'" said Armand, paraphrasing a quote by Chilean poet and socialist politician Pablo Neruda.
Armand's La Fortaleza stars and is inspired by the director's father and follows a middle-aged alcoholic who leaves the city for the jungle in an effort to battle his demons.
Festival director Bero Beyer and programmer Muge Demir hosted a press conference with five of the 10 Tiger Competition directors, including Vincent Boy Kars (Drama Girl) and Janis Rafa (Kala Azar).
Kars talked about working with lead cast member Leyla De Muynck on creating a protagonist who is a hybrid of fictional character and De Muynck's real life. "She was used to telling stories with her body as a dancer", he noted.
Rafa's debut film centres on a couple working at a pet crematorium who collect the many different animals that are brought to them. "The film is about loss, and understanding what connects us to the world and to other beings – it's this kind of mortality we all share," she said.
Kamikaze mission
The issue of artistic freedom in Brazil was also touched upon by Eduardo Serrano, editor on films including Cannes 2019 Competition title Bacurau and Sundance and Berlin 2019 feature Divine Love.
"It's such a stunning thing, our democracy broke down," he said, in a masterclass event on Sunday, January 26 moderated by film critic and journalist Ella Kemp. "I thought cinema would still be going on, but [the far-right government in Brazil] managed to get the film agency stuck."
Last summer Brazil's far-right government began moves to take control of state film funding through national film agency Ancine.
Serrano said "maybe we won't be able to do something as large as Bacurau" in the future. However, he also acknowledged that the threat of an ultra-conservative government potentially focused the artistic aims of the filmmakers during production. "We were in a kamikaze mission – this was maybe the last film I will make. I didn't feel like we needed to worry about Cannes or any other festival – I just wanted to have a good time on it."
IFFR continues until Sunday, February 2, with upcoming events including a masterclass from Oscar-nominated director Bong Joon Ho on Wednesday, January 29. The remaining five Tiger Competition directors will participate in a press conference on Tuesday, January 28.