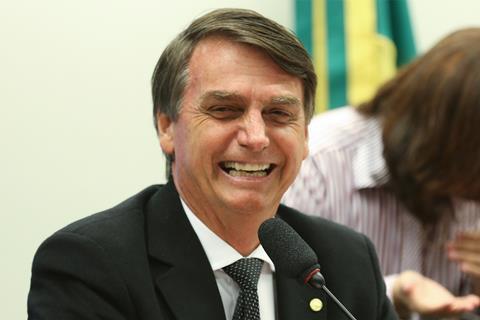 The Brazilian film industry has responded to proposals from far-right president Jair Bolsonaro to impose a range of "filters" on national film agency Ancine to influence the type of films that receive state film funding.
Ancine manages the Audiovisual Sector Fund (FSA), the most important federal fund in the country which invests around $91.5m in Brazilian film annually. Bolsanaro has threatened to close the agency if it does not comply. He has also demanded the relocation of Ancine's board of directors from Rio de Janeiro, where the film industry is based, to the country's federal capital Brasilia, the home of the government.
Bolsonaro used a speech to celebrate his first 200 days in office last week to suggest public money should not be used to make certain types of films. He referred to the award- winning Confessions Of A Brazilian Call Girl, released in 2011, which he described it as a "porno film". Instead, Bolsonaro wants state money to be invested in films that pay homage to Brazilian heroes.
The team behind Confessions Of A Brazilian Call Girl responded to Bolsonaro's comments with a post on social media pointing out the film created 400 jobs, garnered over 2 million admissions and over $5.3m at the box office in Brazil alone.
Many in the Brazilian film industry are now fearing the worst.
"All of us, working on any production, may have problems in getting a film made if we actually go towards a dictatorship regime and if the censorship mechanism is implemented,'' says producer Tatiana Leite of the production outfit Bubbles Project. Her credits include Gustavo Pizzi's Loveling which played widely on the festival circuit in 2018.
"Themes or characters from the LGBT universe, biopics about politicians or films related to sex or sexuality in general may be at risk," she said. "Everything can happen in the face of obscurantism."
Emilie Lesclaux, producer of Juliano Dornelles and Kleber Mendonca Filho's Cannes competition title Bacurau and Filho's 2016 title Aquarius, said any move by Ancine to Brasilia would be "absurd, in a context of crisis and contingent".
"The most worrying proposal undoubtedly refers to content filters, which immediately suggests prior censorship of the projects," she continued. "Imposing thematic [rules] to the artistic creation is scary, besides being illegal."
Lesclaux added she is also concerned with the lack of dialogue between the Bolsonaro's government and the film community.
Amid the furore Ancine has revealed it is supporting Josias Teófilo's $140,000 pro-Bolsonaro documentary Nem Tudo Se Desfaz (literally, Not Everything Fades). It is set to explore the cultural and political transformations that led to Bolsonaro's rise to the presidency in the 2018 elections.
The announcement is understood to underline the agency's claim it has not political bias.
Eduardo Bolsonaro, the son of the president, subsequently posted on social media: "This documentary will prevent the left from keeping their cultural hegemony telling the world what is true in Brazil, because we know it's not."