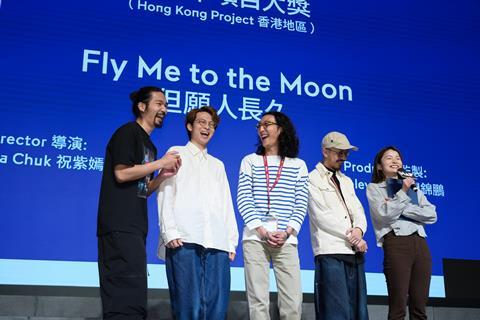 Hong Kong project Fly Me To The Moon won five awards at the closing of this year's Hong Kong-Asia Film Financing Forum (HAF, March 13-15).
The film will mark the feature directorial debut of Sasha Chuk and is produced by Hong Kong filmmaker Stanley Kwan, whose films as a director include Venice 2005 title Everlasting Regret, Cannes 2001 film Lan Yu and Berlin competition titles Center Stage, The Island Tales, Hold You Tight and Red Rose White Rose.
Scroll down for full list of winners
Fly Me To The Moon was among 15 titles selected for the work-in-progress strand of this year's HAF and won the WIP Award for a Hong Kong project, CCG Grand Award, Heaven Pictures Young Director Award, mm2 Award and was selected for the HAF Goes to Cannes programme. The associated prize money totals HK$550,000 ($70,000).
The project had previously received HK$5m ($637,000) from the Hong Kong Film Development Council's First Feature Film Initiative and the winnings mean it has reached its proposed budget of $705,000.
This drama follows two immigrant sisters in the 1990s who move from China to join their drug-addict father in Hong Kong. The cast is led by Wu Kang Ren of Netflix's Copycat Killer, Wu Chien Ho from Chung Mong-Hong's award-winner A Sun and Angela Yuen of The Narrow Road. Chuk's Taiwan-set short film Plain Sailing won the gold award of the open category at Hong Kong's ifva Awards in 2022.
Other multiple HAF award-winners included Salli from Taiwanese debut director Lien Chien-Hung, which won a hat-trick of prizes. The film, which has a budget of $1.28m, centres on a chicken farmer in Taiwan who develops an online romance with a man in France, and travels to Paris despite her fellow villagers believing it is a scam.
The 21st edition of HAF also showcased 28 in-development projects, of which Lawrence Kan's Hong Kong title The Marriage Drive and Zhao Jin's Chinese title Non-Fiction Stories won the top IDP Awards, each worth HK$100,000 ($12,700).
The IDP strand also saw Chinese project The Poison Cat by first-time director Guan Tian win three prizes. The fantasy thriller centres on a pregnant woman who tries to protect her child after an evil spirit appears in her village.
HAF is celebrating several projects that have found success on the international stage in recent months. Lu Jian's Art College 1994, Wu Lang's Absence and Burak Cevik's Forms Of Forgetting all played at last month's Berlinale, having previously come through HAF, while Lav Diaz's When The Waves Are Gone and Stonewalling from Ji Huang and Ryuji Otsuka were selected for Venice.
HAF21 Award Winners
IDP Award for a Hong Kong project: The Marriage Drive (HK), dir. Lawrence Kan
IDP Award for a non-Hong Kong project: Non-Fiction Stories (China), dir. Zhao Jin
WIP Award for a Hong Kong project: Fly Me To The Moon (HK), dir. Sasha Chuk
WIP Award for a non-Hong Kong project: Salli (Tai-Fr), dir. Lien Chien-Hung
CCG Grand Award: Fly Me To The Moon (HK), dir. Sasha Chuk
Heaven Pictures Young Director Award: Fly Me To The Moon (HK), dir. Sasha Chuk
mm2 Award: Fly Me To The Moon (HK), dir. Sasha Chuk
TAICCA Award: Skin Coat (Sing), dir. Tan Wei Keong
Taipei Film Commission Award: Racing Storm (Tai), dir. Lin Yu-Hsien / Skin Coat (Sing), dir. Tan Wei Keong
White Light Post Post-Production Award for an IDP project: The Poison Cat (China), dir. Guan Tian
White Light Post Post-Production Award for a WIP project: Salli (Tai-Fr), dir. Lien Chien-Hung
ARRI Award: The Mermaid's Tale, dir. Norris Wong
Network of Asian Fantastic Films (NAFF) Award: The Poison Cat (China), dir. Guan Tian
Udine Focus Asia Award: The Poison Cat (China), dir. Guan Tian
HAF Goes to Cannes Programme
Brief History Of A Family (China), dir. Lin Jianjie
Fly Me To The Moon (HK), dir. Sasha Chuk
Hani (HK), dir. Hou Dasheng
Salli (Tai-Fr), dir. Lien Chien-Hung
Who Were We? (Jap), dir. Tomina Tetsuya