Rogue One topped this week's chart, while Disney's Moana maintained a high level of interest.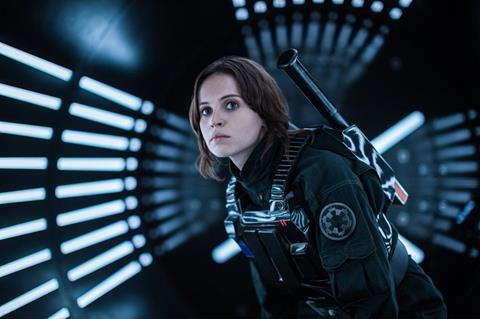 Star Wars: Rogue One A Star Wars Story, Disney's latest entry in the Star Wars franchise, topped UK social buzz this week, according to marketing firm Way to Blue.
Gareth Edwards's film generated over 11,000 comments across social media, news, forums and blogs from December 1-7. It also registered a high intent to view ratio with almost 10% of comments indicating a desire to watch the movie.
The Star Wars spin-off is set to be released on December 16.
Another Disney film registered second on this week's buzz chart, the recently released animation Moana. It has maintained a high level of popularity into its second week at the box office. After grossing £2.2m across the UK in its opening weekend, the film earned nearly 6,500 comments this week with 729 commenters indicating intent to view.
Festive comedy Office Christmas Party came a distant third, garnering 1,719 comments. Elsewhere, bittersweet coming-of-age drama Edge of Seventeen, starring the Oscar-nominated Hailee Steinfeld, and the Tom Hank's disaster movie Sully, rounded off the top five with 1,531 and 1,352 comments respectively.
For an explanation of the Way to Blue chart and its methodology, which tracks 'overall buzz' and important 'intent to view' buzz, click here.