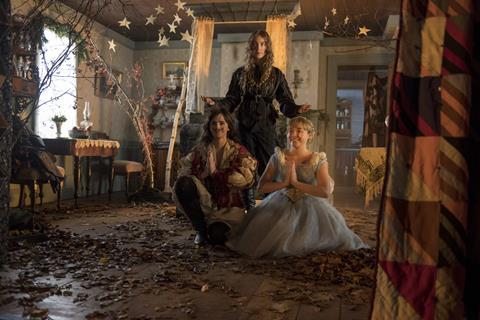 | Rank | Film (Distributor) | Three-day gross (Dec 27-Dec 29) | Total gross to date | Week |
| --- | --- | --- | --- | --- |
| 1 | Star Wars: The Rise Of Skywalker (Disney) | £9.3m | £39.4m | 2 |
| 2 | Jumanji: The Next Level (Sony) | £3.6m | £21.9m | 3 |
| 3 | Little Women (Universal) | £2.7m | £3.6m | 1 |
| 4 | Frozen II (Disney) | £2.1m | £46.1m | 6 |
| 5 | Cats (Universal) | £1.9m | £7.3m | 2 |
Disney
Disney's Star Wars: The Rise Of Skywalker ruled the UK box office on its second week on release with a three-day weekend gross of £9.3m to take it to £39.4m to date. It is now the seventh biggest film of 2019.
Frozen 2 also impressed, putting on £2.1m over three days. This is a fall of just 4% week-on-week which takes the animation to £46.1m after six weeks on release. This makes Frozen 2 the fifth biggest film of 2019 and Disney Animation's highest-grossing film of all time in the UK and Ireland.
Disney opened the animated adventure Spies In Disguise, featuring the voice of Will Smith, a Fox inheritance, on December 26. It took £1.5m, including its Boxing Day screenings.
Sony
Sony's Jumanji: The Next Level increased by 23% for a three-day gross of £3.6m and is now up to £21.9m in the UK after three weeks on release.
Greta Gerwig's Little Women was the biggest opener and grossed £2.7m over the three-day weekend, and £3.6m in total, including previews, from 583 screens. The adaptation of Louisa May Alcott's classic novel outperformed recent December 26 Boxing Day openers including Bumblebee (£2.5m in 2018) and The Greatest Showman (£2.6m in 2017).
Little Women is Gerwig's second feature as solo director. Her debut, Lady Bird, opened with £942,187 in the UK in 2017 and went on to garner £5.6m.
Paramount
Paramount's comedy Playing With Fire, starring former WWE wrestler John Cena, also opened on Boxing Day and grossed £620,000 on the three-day weekend, and £761,000 including previews.
Rapman's Blue Story added £44,000 from 31 sites to take it to a gross of £4.4m.
Universal
Universal's all-star musical Cats added £1.9m over the three-day weekend to take it to £7.3m after two weeks on release.
Last Christmas is now up to £17.7m to date with a three-day gross of £171,619.
Lionsgate
Rian Johnson's whodunnit Knives Out took £552,348 up 29% from last weekend and is up to £10.6m.
New Wave Films
New Wave Films' Long Day's Journey Into Night grossed £8,072 from just eight screens. Bi Gan's Cannes 2018 title is a 138-minute 3D mystery, half of which is told through one continuous shot. The film was nominated for five prizes at Taiwan's Golden Horse awards in 2018, winning for best cinematography, score, and sound effects.