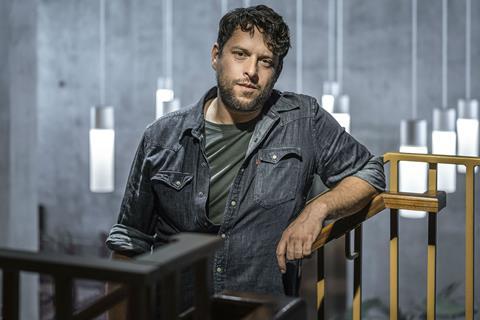 When Johnny Kenton speaks to Screen, he has just finished a day's prep on Mammoth's hit ITV show Endeavour in Oxfordshire. "Coming straight out of film school and being offered [to direct] a 90-minute respected TV show, that's the dream," he says of the assignment, which showcases Kenton's versatility in a career that has already included theatre, experimental short films and commercial work.
Brought up in the Scottish Highlands, Kenton started out making music videos as a teenager, eventually working on projects for Columbia and Universal, as well as ads for Fuji, Nissan and Samsung. He also turned his hand to immersive theatre, directing two shows in Edinburgh including an interactive horror set in the vaults underneath the city.
In 2013, Kenton used Kickstarter to fund Hereafter, a sci-fi pilot he wrote and directed starring Lydia Wilson, Anthony Head and Taron Egerton, which won the prize for best drama or dramedy pilot at New York Television Festival that year. It helped him to be selected as a David Lean scholar at the National Film and Television School (NFTS). "It would've been impossible to go otherwise," he says.
After winning the Pia Pressure award for emerging talent in 2016, Kenton graduated this February with Dead Birds, a black comedy about a competitive mother-daughter relationship starring Shannon Tarbet and Tara Fitzgerald.
Alongside Endeavour and a short for The Ink Factory about author John le Carré, Kenton is developing Live Fast Die Young, which he hopes will be his first feature, and is meeting with writers and production companies. He also has two potential TV series: supernatural comedy Double Tucked and sci-fi thriller Blackscape, which he created with 2016 Star of Tomorrow Melissa Iqbal, in development.
Describing the types of projects he wants to pursue, Kenton says: "For me the world is terrifying and heart-breaking as well as really hilarious and hopeful… making films that are a combination of those things is quite important to me."