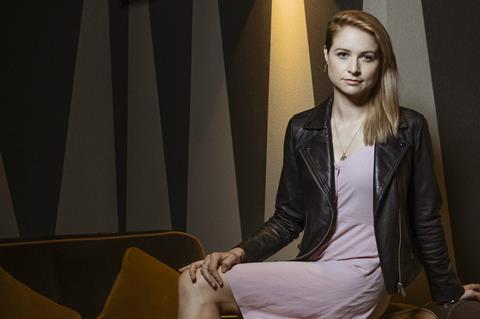 Niamh Algar is a woman who knows what she wants. "I'd love to do a boxing film," says Algar, who has sparred since she was a teenager. "I want to do roles that are quite physical and about pushing yourself."
Algar did not go to drama school, but regularly participated in workshops at the renowned Bow Street acting academy — formerly The Factory — in Dublin. From there she was cast in Lorcan Finnegan's Without Name. The Irish film screened at the Toronto and London film festivals in 2016, and it was at the LFF screening that she secured an agent at Independent Talent. "I came over for the festival and didn't leave," says Algar, who is now based in London.
The first audition Algar was sent on by her agent was for Shane Meadows' Channel 4 drama The Virtues, and she won the central role of Dinah opposite Stephen Graham. The Sheffield shoot lasted a year, and Algar knew she was involved in something special. "Shane fine-tuned the story as we were doing it," she explains of the show, which follows a man facing up to his difficult childhood. "He was making sure he was telling the right [story] and working with the right people."
Following The Virtues, Algar has made two TV series for Channel 4 — The Bisexual, with Desiree Akhavan and Maxine Peake, and Pure, with Joe Cole — and is working on the BBC political thriller MotherFatherSon, with Richard Gere, Helen McCrory and Billy Howle (a 2015 Star of Tomorrow), in which she plays a former soldier from Northern Ireland.
She has also made her film debut in dark family drama Calm With Horses, co-starring Barry Keoghan and directed by Nick Rowland (also Stars of Tomorrow in 2015). It is produced by Film4 and Michael Fassbender's DMC Film, and shot on the west coast of Ireland earlier this year.
Now the actress has Hollywood in her sights. "I'd love to venture to America," Algar explains. "I've been playing Irish quite a bit and it serves me well, but I'd like to change into a different accent."
And she is also keeping up the boxing. "I try and do as much as I can between projects. When you're sparring you have to block out everything else and focus on what you're doing. That's a lot like acting. You have to be very present."
Contact: Ollie Azis, Independent Talent Group