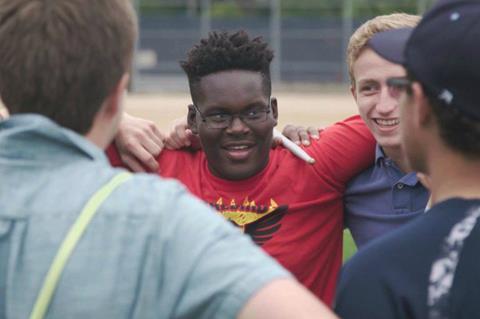 Starz has acquired the unscripted 10-part docuseries America to Me from Participant Media and Steve James that premiered in part in Sundance.
Participant Media and Kartemquin Films produced the series – the first five episodes premiered in Park City in the Indie Episodic showcase – that focuses on the challenge of racial and educational inequalities facing American teenagers today.
The series follows students, teachers and administrators in suburban Chicago's Oak Park and River Forest High School over the course of one year. The school is regarded as one of America's most exemplary and diverse public schools.
Starz acquired all US multiplatform pay-TV and SVOD rights to the series. Lionsgate, which represents international rights to Participant's feature film and select documentaries, will retain all international and US distribution and home entertainment rights to the series.
The docuseries marks the first from Participant Media and will premiere in the autumn on STARZ and will be available for download or streaming through the STARZ app.
James directed and served as executive producer on the 10 hour-long episode docuseries via his Kartemquin Films. Executive producers include Gordon Quinn, Betsy Steinberg, and Justine Nagan, with Participant Media's Jeff Skoll and president of documentary film and television for Participant Media, Diane Weyermann.
"We are thrilled to acquire this compelling docuseries from Participant Media and Steve James who, as a filmmaker, is truly one of the best," president of programming for Starz, Carmi Zlotnik, said.
"America To Me is extremely socially relevant and timely which exemplifies our diversity strategy. Steve's ability to bring the real and honest portrait of these students and the complex and compelling issues they face through this series is admirable."
Participant CEO David Linde said, "As Participant continues to expand its global footprint with exciting new content opportunities, we are thrilled to announce this distribution partnership with Starz bringing America To Me our first documentary television series, to audiences everywhere."
"In creating America To Me, we were encouraged every day by the kids and their families, some truly dedicated teachers, and so many others featured in the series," James said. "Their passion and insights inspired us and we believe their stories will resonate with people everywhere."
"Steve and his incredible team of field directors have created a series with extraordinary intimacy that shows the complexities and nuances of being a teenager in an American high school," Weyermann said. "We are thrilled to partner with Starz and look forward to audiences falling in love with 'America to Me' just as we have."
Endeavor Content represented Participant and Kartemquin on the deal.