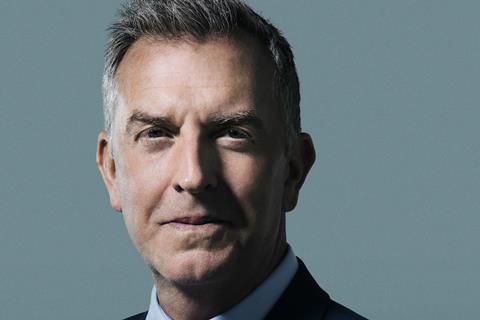 Lionsgate co-COO and motion picture group co-president Steve Beeks will step down from his position at the end of the year and transition to a consultancy role.
The 20-year company veteran announced the move on Monday (December 11). Joe Drake recently returned to Lionsgate when the latter acquired Good Universe and serves as co-chair of the motion picture group alongside Patrick Wachsberger, who has renewed his contract.
Beeks was named Motion Picture Group co-president in 2012 and oversaw the studio's film production and acquisition strategy. That included box-office hits like La La Land and the Hunger Games and John Wick movie franchises.
The executive has spearheaded business and strategic initiatives for the Lionsgate motion picture group since he was named co-president of the group in 2012.
His remit included oversight of the company's film production and acquisition strategic plan. During the past five years, Lionsgate's film slate has grossed nearly $10bn worldwide, led by La La Land, the Hunger Games and John Wick franchises, and 2017 hits like Wonder, which just crossed $100m in North America last weekend, and The Hitman's Bodyguard.
Beeks helped orchestrate recent renewals of theatrical distribution deals with content partners StudioCanal and CBS Films, and has overseen the continued growth of Pantelion Films, Lionsgate's joint venture with Mexico's Grupo Televisa.
The executive has also managed Lionsgate's acquisition and distribution relationship with sister company Roadside Attractions on the likes of Manchester By The Sea.
"We deeply appreciate Steve's many contributions to our growth into a major global content platform," Lionsgate CEO Jon Feltheimer said. "He has been a key member of the leadership team guiding our Company, and we look forward to his continued expert guidance in the future. He remains a highly valued member of our Lionsgate family, and we are already working on new projects to do together."
"During my years at Lionsgate, I have been fortunate to have a visionary and supportive senior management team, incredibly talented colleagues, and a staff second to none," said Beeks. "Lionsgate is one of the most exciting companies in the industry, and I'm proud of everything we've accomplished together.
"I'm especially proud of being a part of the very successful string of films we've released in the past year. Having worked for so long in such a dynamic environment has inspired me to move forward with entrepreneurial opportunities of my own."
Prior to joining Lionsgate's motion picture group, Beeks was one of the architects of the $1bn-plus-annual home entertainment business, and helped grow the 16,000-title film and television library.