BBC Films production is written by Jeff Pope (Philomena) and follows the comedy duo's final UK tour.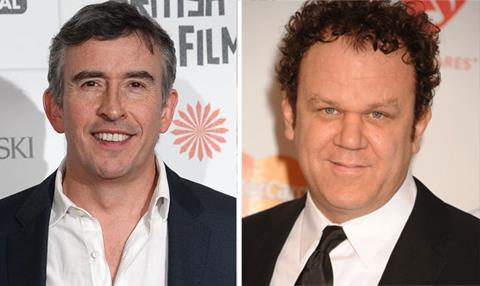 Steve Coogan and John C. Reilly are to star in Stan & Ollie, a biopic that centres on the final UK tour of the renowned comedy duo in 1953.
Coogan, star of Philomena and Alan Partridge, will play Stan Laurel while John C. Reilly, known for his roles in Chicago and We Need to Talk About Kevin, will portray Oliver Hardy
Directed by Jon S. Baird (Filth), the screenplay has been written Jeff Pope, who was nominated for an Oscar and won the BAFTA for Philomena.
Stan & Ollie is being made by BBC Films, which developed the feature, alongside Faye Ward's Fable Pictures and Jeff Pope's Sonesta Films.
Pope said the duo were his "heroes" but did not shy away from writing about their "flaws and shortcomings".
"When I watch their movies, in my head it is forever a Saturday morning and I am six years old watching the TV at home utterly spellbound," said the screenwriter.
"I am aware of the huge responsibility of bringing their characters to life, but I have not treated the boys with kid gloves or looked at them through rose coloured specs. They are living and breathing characters, with flaws and shortcomings.
"The research into this story threw up so many details and facts that I had no idea about. But everything I have done has come from a place of love and more than anything else I hope this shines through."
Christine Langan, head of BBC Films, described Reilly and Coogan as "dream casting", "bringing to life with uncanny accuracy and irresistible gusto the genius creative marriage that Jeff Pope's script explores so lovingly".
The story centres on Laurel & Hardy, the world's favourite comedy double act, who set out on a variety hall tour of Britain in 1953. Diminished by age and with their golden era as the kings of Hollywood comedy now behind them, they face an uncertain future.
As they set out, crisscrossing the country, attendances are disappointingly low. But they've always been able to make each other laugh and as the charm and beauty of their performances shines through their audiences laugh too, and they re-connect with legions of adoring fans, old and new.
The tour becomes a hit, but Laurel & Hardy can't quite shake the spectre of Stan and Ollie's past; and long buried ghosts, coupled with Oliver's failing health, start to threaten their precious partnership. A portrait of their creative marriage begins to unfold as the duo, aware that they may be approaching their swan song, try to rediscover just how much they mean to each other.
Executive producers are Christine Langan and Nichola Martin for BBC Films, Jeff Pope for Sonesta Films and Gabrielle Tana.
The rights to the work of Laurel and Hardy have been licensed by Larry Harmon Pictures Corporation.