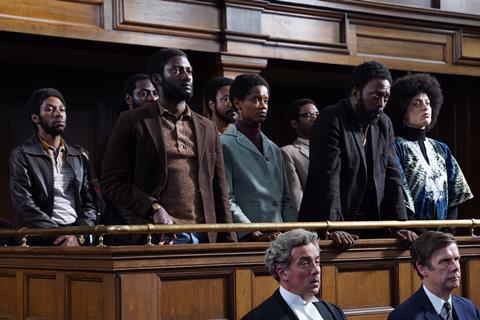 The European premiere of Steve McQueen's Mangrove will open the 2020 BFI London Film Festival (LFF) on Wednesday October 7.
Mangrove is one of five films from the director's Small Axe anthology created for BBC One, and stars Letitia Wright, Shaun Parkes and Malachi Kirby. It tells the story of the Mangrove 9, the group of Black activists who clashed with London police during a protest march in 1970 and their highly publicised trial that followed.
Mangrove will play for free to festival audiences at BFI Southbank and in selected cinemas across the UK.
The festival's new format for 2020, created in response to Covid-19, will comprise a mixture of physical and virtual screenings.
Thirteen films in total will screen in previews across the UK, in partnership with a UK-wide cinemas network.
More than 55 films will screen as virtual premieres, each of which will play at a set time, and feature additional elements including talent Q&As and discussions.
The full programme will be announced via an online launch on September 8.
Mangrove is co-written by Steve McQueen and Alastair Siddons and will be broadcast on BBC One this autumn.
Small Axe has been executive produced by Tracey Scoffield and David Tanner for Turbine Studios and Steve McQueen for Lammas Park. Mike Elliot produced for EMU Films with Turbine and Anita Overland.
The executive producers for the BBC are Lucy Richer, senior commissioning editor for drama and Rose Garnett, director of BBC Films. Amazon Studios is co-producing within the US. BBC Studios are the international distributors and are handling global television sales.
Steve McQueen said: "I couldn't be happier that Mangrove will open this year's BFI London Film Festival. Although the themes are universal, Mangrove is a London story. It may have happened 50 years ago, but it's as relevant today as it was then."
BFI London Film Festival director Tricia Tuttle added: "[McQueen's] Widows also opened the 62nd BFI London Film Festival in 2018 and we have never had the same filmmaker open the LFF twice in such a close time frame; that's both a testament to the urgency of the film and potency of his filmmaking."