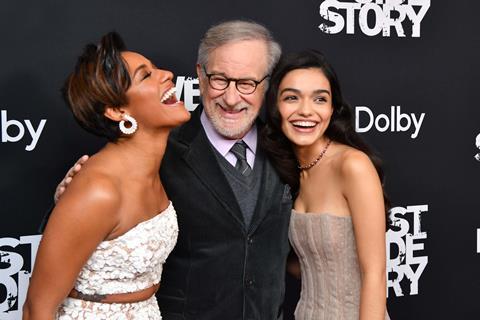 Oscar winner Steven Spielberg said he disagrees with the Academy's plan to hand out eight awards prior to the live broadcast on March 27 and then show edited highlights during the telecast.
The Oscar winner and a member of the Academy's board of governors, who is in contention for best director for the multi-nominated West Side Story, spoke out after the decision concerning the editing, original score, sound, production design, make-up/hairstyling, documentary short, animated short, and live-action short categories.
"I disagree with the decision made by the executive committee. I feel very strongly that this is perhaps the most collaborative medium in the world," said Spielberg. "All of us make movies together, we become a family where one craft is just as indispensable as the next.
"I feel that at the Academy Awards there is no above the line, there is no below the line. All of us are on the same line bringing the best of us to tell the best stories we possibly can," the filmmaker told Deadline Hollywood after a weekend screening of West Side Story on the Fox lot. "And that means for me we should all have a seat at the supper table together live at 5."
The Academy announced its decision last month. It has since emerged that the 94th annual Academy Awards in Hollywood will run for four hours, although the live telecast on ABC produced by Will Packer will run to three.
The decision has ruffled feathers at American Cinema Editors and Motion Picture Sound Editors, among others. Editing has traditionally been regarded as a senior Oscar. In addition, industry sources said when the Academy rolled sound editing and mixing into a single sound Oscar – which came into effect last year – it was understood the new category would not be removed from the live telecast.
Over the weekend Tom Fleischman, Martin Scorsese's longtime collaborator who shared the sound mixing Oscar for Hugo with John Midgley in 2012, had resigned from the Academy in protest over the decision to present eight Oscars prior to the live telecast.