Amblin Entertainment project will mark fifth collaboration between director and Hanks.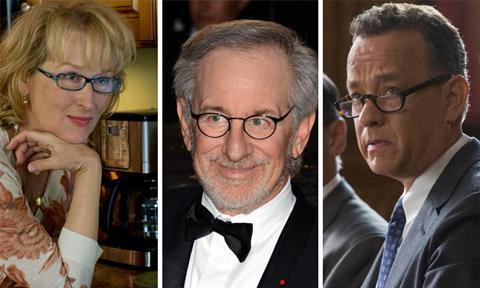 The powerhouse trio will collaborate on The Post, a drama about one of the biggest leaks in US history that Fox and Amblin Partners are co-financing.
Spielberg will direct and it is understood negotiations are ongoing for Hanks to play The Washington Post editor Ben Bradlee and Streep to portray the paper's publisher, Kay Graham.
The drama will centre on how the pair took their First Amendment case to the courts to fight for the right to publish the incendiary Pentagon Papers in 1971.
The documents contained top-secret information from a Defence Department report on troop escalation in the Vietnam War. The New York Times first reported the leak by military analyst Daniel Ellsberg before it was gagged by the courts.
Ellsberg then leaked documents to The Washington Post, which started reporting on the case. Several years later Bradlee would oversee the Post's coverage of the Watergate scandal that forced US President Richard Nixon to resign.
Fox will distribute in the US, while international will go through channels including Amblin Entertainment parent company Amblin Partners' output deals. Amblin Partners is owned by Participant Media, Reliance Entertainment, eOne, Alibaba Pictures and Universal Filmed Entertainment.
The Post is based on a screenplay by Liz Hannah that landed at former Sony Pictures Entertainment co-chairman Amy Pascal's Pascal Pictures.
Pascal, Spielberg and Kristie Macosko Krieger will serve as producers, while the executive producer roster includes Rachel O'Connor, Tim and Trevor White, and Adam Somner.
Spielberg, currently in post on sci-fi Ready Player One, most recently directed Hanks in Bridge Of Spies and their collaborations include Catch Me If You Can, The Terminal and Saving Private Ryan.
Streep is the narrator on the upcoming Netflix documentary Five Came Back, on which Spielberg serves as executive producer.