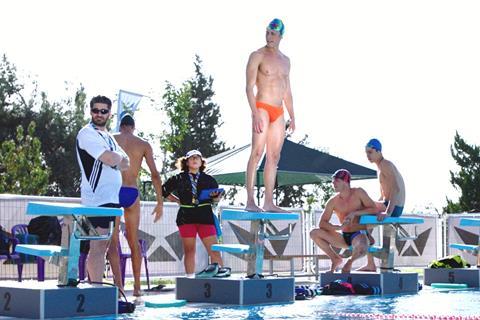 Berlin-based M-Appeal has sold Adam Kalderon's Israeli feature The Swimmer, about the sexual awakening of a young gay man, to North America (Strand Releasing), France (Outplay Films), and the UK & Ireland (Peccadillo Pictures).
Set in a summer training camp where young athletes compete to qualify for the Olympics, the film follows one young sportsman coming to terms with his sexuality, despite the discriminatory tendencies of the world in which he is competing. His drive to win is threatened by his burgeoning sexual desires.
The Swimmer is based on director Kalderon's own experiences as a professional swimmer in the Israeli swimming team. It premiered at the Jerusalem Film Festival in August.
"By making this film we would not only want to highlight the problem of homophobic bullying in professional sport, but show a hero who is brave and strong enough to face adversity and is able to overcome everything with attitude," said Kalderon. "We hope that this film will shine a spotlight on society and will draw attention to LGBTQ issues and to empower our audience with an original voice."
Strand Releasing has taken all rights to the film, adding it to an auteur-driven catalogue, which also includes work from directors such as Gregg Araki and Terence Davies. Marcus Hu, co-president, Strand Releasing, said Strand was "thrilled" to have the film and is expecting a strong response at festivals.
French outfit Outplay Films, which also released Weekend by Andrew Haigh, intends to release The Swimmer theatrically.
"LGBTQ+ people in sports is becoming a real thing for French society and we are very proud to represent a film that gives the floor to them," said Diego Carazo-Migerel, head of international sales & acquisitions, Outplay Films.
UK outfit Peccadillo is also aiming to give The Swimmer a theatrical release.
The Swimmer was made through Ingenue Productions, produced by Naama Pyritz and supported by the Israel Film Find. Its cast is led by Omer Perelman Striks, Asaf Jonas, Igal Reznik and Nadia Kucher, It has an electro-pop soundtrack by The Penelopes, a French indie pop/electronic band from Paris. This is Kalderon's second feature after his award-winning debut feature Marzipan Flowers in 2014.
As previously announced, Berlin-based Salzgeber, a distributor specialising in queer and commentary cinema, has already taken German, Swiss, Austrian and Benelux rights to the movie.