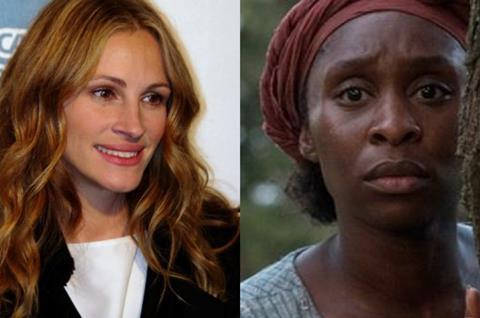 A studio executive once suggested Julia Roberts play escaped slave Harriet Tubman, the screenwriter of Harriet has revealed this week as Universal prepares to launch the awards hopeful starring Cynthia Erivo in the UK.
Writing in the LA Times from a Focus Features Q&A, Gregory Allen, who has tried to get the film made for decades, recalled a conversation 25 years ago in the offices of what he described as a "then-president of a studio sublabel".
Allen said the head of the "sublabel" liked the script (then called Freedom Fire) and proposed Roberts, who was red-hot in Hollywood after Pretty Woman, play the role of the escaped slave who risked her life working on the Underground Railroad to transport other slaves safely to the North.
Allen wrote in the Times, "Picture 1994: "This is a great script. Let's get Julia Roberts to play Harriet Tubman," said the then-president of a studio sublabel. Fortunately, there was a single black person in that studio meeting 25 years ago who told him that Harriet Tubman was a black woman. The president replied, "That was so long ago. No one will know that." Tubman died in 1913.
"Thus began the epic 25-year journey of getting my Harriet Tubman script to the screen."
Allen never gave up. Inspired by the 2014 best picture Oscar win for 12 Years A Slave, he eventually teamed up with producer Debra Martin Chase and later Daniela Taplin Lundberg, and got backing from WME. Director Kasi Lemmons came on board and the project that had become known as Harriet landed at Focus Features in 2018.
Allen wrote, "What I realise now is that the film was not going to get made until the environment in Hollywood changed — Hollywood had to go through its own climate change. Nobody in Hollywood wants to be an outlier. Hollywood has a herd mentality. There was no herd around the story of a former slave girl who freed other slaves. All the people I pitched this to, submitted the script to, were asking themselves one question: "How do I sell this story to my boss, to a studio, to my financial partners?" Fear chilled them."
Harriet premiered at Toronto and played at BFI London Film Festival. It has grossed more than $11m since the November 1 North American launch via Focus Features, and debuts in the UK on Friday (22).