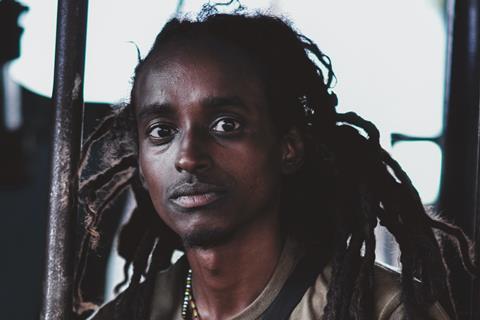 Sudanese filmmaker Hajooj Kuka and four other artists have been released from jail in Sudan's capital of Khartoum, two weeks after they were imprisoned on charges of causing a public nuisance while participating in a theatre workshop.
South African producer Steven Markovitz, who produced Kuka's award-winning documentary Beats Of The Antonov and debut fiction film aKasha, announced the news on Twitter on Thursday evening.
"Great news! Hajooj and the four artists have just been released. International pressure made a difference," he wrote.
He added, however, that a campaign continues for another six artists who remain in jail.
"There are still six artists in jail pending appeal and many more people who have been arbitrarily detained in Sudan."
All the arrests were related to an incident in early August during a workshop at a community arts centre in Khartoum, when neighbours complained about the noise and called the police.
Kuka and the other members of the groups have denied the allegations of causing a disturbance, saying that they had been attacked by local Islamists who were unhappy that men and women were mixing freely at the meeting.
Their arrests and jail sentences were seen as a sign of the fragility of Sudan's transition to democracy after the toppling of long-time authoritarian leader Omar al-Bashir in April 2019.
Kuka's arrest was widely condemned by the international cinema industry. Several film festivals and institutions, including the Toronto International Film Festival and Berlin Film Festival, issued statements calling for his release.
It was also the first official campaign of the recently launched International Coalition for Filmmakers at Risk (ICFR). The European Film Academy (EFA), International Documentary Film Festival Amsterdam (IDFA) and International Film Festival Rotterdam Film (IFFR) spearheaded the body to support filmmakers who find themselves in danger in connection to their work.
"Hajooj Kuka's case was clear from the beginning and this result demonstrates some small signs that the transitional government which ousted the dictator al-Bashir is moving away from his hardline regime. We will watch as the situation develops, and react again should filmmakers be targeted and their lives endangered," commented EFA president and ICFR co-founder Mike Downey.
Kuka is a well-known figure on the international festival circuit. Beats Of The Antonov won Toronto's people's choice award for best documentary in 2014, while aKasha, an off-beat romantic comedy-drama set against the backdrop of Sudan's civil war, premiered in Venice Critics' Week in 2018. He was invited to become a member of AMPAS in June of this year.